National Songwriters Summit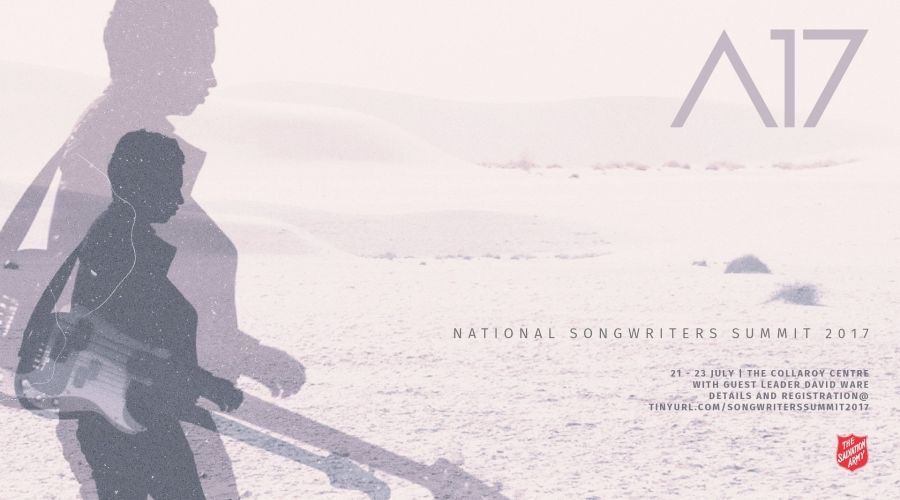 National Songwriters Summit
Date: 21st July 2017 7:00pm - 23rd July 2017 1:30pm
Location: The Collaroy Centre
The Salvos National Songwriters Summit is focussed on using our individual and collective faith journeys and experiences to develop music for worship and worship-leading, specifically in contemporary worship team, acoustic and electronic genres.
The Weekend
The National Songwriters Summit will take place at the Collaroy Centre from 21-23 July 2017. 
The weekend will include: 
opportunities to share your journey so far, including your own pieces, music or lyrics
perspectives from a worship leader, and how it is used in leading worship
collaboration opportunities
open worship night (Saturday) to share new pieces
discussion forum on next steps for new music
Guests Leaders
David Ware
Worship Leader and Contributor
Hillsong (Southwest Sydney)
hillsong.com/contributor/david-ware
Kris Singh
Worship Leader and Creative Resources Developer,
The Salvation Army New Zealand/Fiji
bearersonline.com/
Register Now
Registration costs $106 per person for the weekend or $53 per person for day registrations.
Register online, call (02) 9466 3496 or email worshiparts@aue.salvationarmy.org