Mission Conference Queensland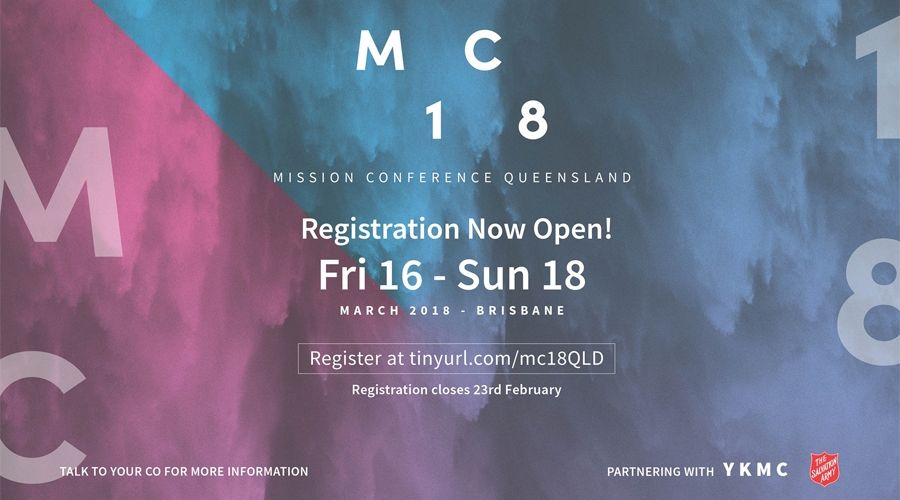 Mission Conference Queensland
Date: 16th March 2018 7:00pm - 18th March 2018 12:00pm
Location: Brisbane State High School
MC QLD 2018 is a mission and leadership conference to empower leaders from every generation in effective ministry. Through this weekend we seek God's inspiration to drive our innovation.

This conference is for Salvation Army leaders & emerging leaders from all expressions around Queensland. Conference delegates will learn from key-note speakers Rev Tim Costello AO, Commissioner Floyd Tidd and Lt-Colonel Lyn Edge, and participate in workshops facilitated by 20+ Mission and Leadership speakers from around Australia. 

From 2018, YKMC is partnering with MC18 to also deliver quality leadership development to young people and those who work with them. 

Dates: 7pm, Friday 16 March - 12pm, Sunday 18 March 2018
Venue: Brisbane State High School Performing Arts Centre, South Brisbane
Cost: $100 (includes registration and most meals)

For online registration please go to http://tinyurl.com/MC18QLD
For further conference information, please go to https://tinyurl.com/mc18QLD-INFO

If you have more questions, please send us a message or email camille.kajda@aue.salvationarmy.org

We look forward to seeing you there!