Mission Conference Country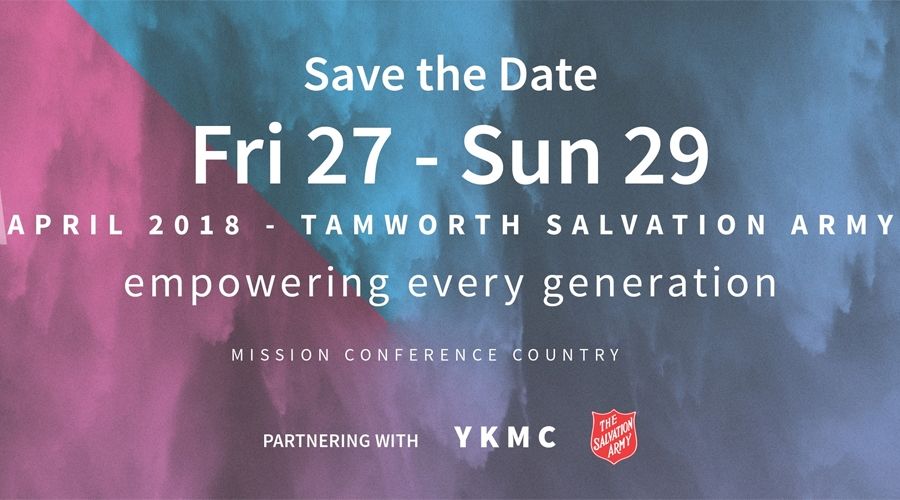 Mission Conference Country
Date: 27th April 2018 - 29th April 2018
Location: Tamworth, NSW
On 27-29 April 2018, the NSW ACT Division will be hosting a "Living our Vision" Mission Conference in Tamworth. The conference is designed to give a greater understanding of the National Vision and our National Leaders Commissioners Floyd and Tracey Tidd along with our National Personnel Secretary and Assistant National Chief Secretary, Lt Cols Kelvin and Winsome Merrett, will join us. There will also be practical, hands on experience in how to hold Kingdom Tables, create space for God conversations, run Community of Hope events and explore the National Vision. All which will work together beautifully. 

This Mission Conference would be great for anyone with a passion for Rural / Regional ministry or anyone wanting to learn more about God's plan for our future. 

Registering for the weekend
In order for the MC18 Team to prepare for the weekend properly we are asking that anyone who will be attending pre-register. We will need this information to be able to provide catering and also if you intend on staying on site in either a caravan or tent. 

If anyone under 18 is attending, they will need to be accompanied by a parent or a leader from the Corps who takes responsibility for them over the weekend. 

Registrations are now open. Go to http://tinyurl.com/mctamworth2018 to register.

Cost
The Division has generously sponsored the event. This means that the only expense people will need to cover is accommodation and Saturday breakfast. 

Meals
The following meals will be provided for those who register for the weekend. 
Friday Supper, Saturday Morning Tea, Lunch, Afternoon Tea, Dinner, Supper, Sunday Breakfast and Lunch. Breakfast on Saturday will be the responsibility of the individual. 

Accommodation
Accommodation will be the responsibility of the individual attending however there will be some onsite options at Tamworth Salvation Army property. 
Tamworth Corps will be opening up the onsite camping area which has powered caravan / camping sites for $10 per person for the weekend. This means that anyone wishing to bring a caravan or a tent will be able to stay on site. There are shower and toilet blocks available on site for the weekend as well. There are limited places available so make sure you register quickly to secure your spot. 
There are also a number of Motels / Camping grounds close by the Corps that people can book in to at their own cost. 

Children's Program
As part of the intergenerational nature of the weekend we are wanting to equip our young people in the church to be part of the mission as well. For this reason, we will be offering a children's program that will run alongside the 3 main sessions, Friday night, Saturday morning and Sunday morning and the 2 workshop sessions on Saturday. This will not be child care. This will be intentional time where we teach children how to be part of the mission God has called them to. 

The children's program will cater for 2-12 year olds; however, they must be toilet trained to be able to attend. 

If you have more questions, please send us a message or email camille.kajda@aue.salvationarmy.org

We look forward to seeing you there.