by AUE mySalvos | 16th August 0 Comments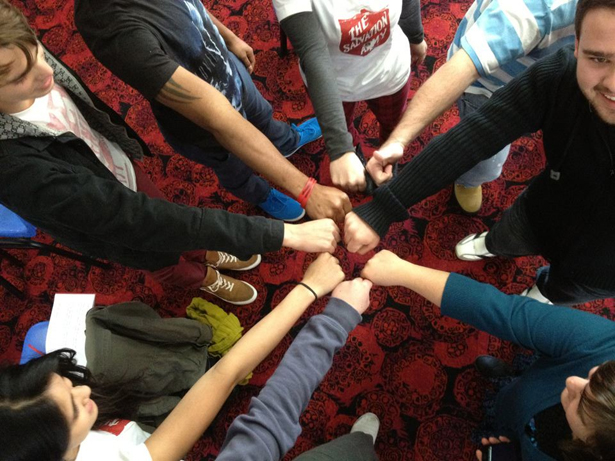 For a week in July, 14 people entered into a journey of Sydney's "dark places" as part of Edify STUMP – The Salvation Army's Short Term Urban Mission Project, based at Streetlevel Mission. What they discovered was light, hope and Jesus. These are their stories:
---
Day Five: Thursday, 11 July
Sydney's medically supervised injecting centre in Kings Cross taglines itself as, "a practical and compassionate response to the unfortunate reality of drug addiction". It's a kind of liminal space, you might say. You could be standing outside the door of the centre one moment and be arrested for the possession of illegal drugs, but once inside the door, possession of those same drugs becomes legal.
Liminal, or "threshold" spaces are always uncomfortable places. But when you look at the gospels, you see that this kind of mixing of black and white is what Jesus was all about.
More and more I'm being reaffirmed in my understanding that this isn't even about who's in and who's out. In fact, Jesus problematised that whole concept of "in" and "out", and in our youth ministry in Blacktown, we couldn't solve that problem even if we wanted to. We have kids who set Australia Post mail boxes on fire, kids who light up in the parking lot, some who turn up to youth a little bit high and try to convince us they're just particularly happy that night! So if it was about who's "in" and who's "out", we'd have abandoned this mission field a long time ago rather than, by the grace of God, staying.
Don't get me wrong: we love our kids!
Isn't it funny how it always comes back to that? Behind every appearance there's a story, and at the centre of every story is a real, living, breathing, feeling, often hurting individual, made in the image of God, as human as anyone. This week I have shared meals with a HIV-positive heroine addict, a homeless man with an overactive imagination, and a bed-less backpacker with a Canadian accent who couldn't seem to decide which country he was from. Of course, the labels don't do any good, because again, they're all as human as anyone. And tonight I had the privilege of hearing my fellow STUMPers' testimonies, only to realise, to my discredit, that I'd made some arrogant, incorrect assumptions and had forgotten: yes, we're all as human as anyone.
Jesus had no problem with seeing people as people. Prostitute, tax collector, wretched sinner: all human. He entered into the liminal spaces and when there weren't any, he created them; in the crap and the chaos and the brokenness of our lives he plants the Kingdom like a seed …
And the Kingdom blooms, mixing the black and the white into innumerable shades of grey so that individuals can cross a threshold into a Kings Cross building and legally inject illegal drugs, for their own safety. The reality of the Kingdom defies our obsession with "in" and "out" and brings youth leaders back, week after week, to counsel and serve a growing number of lovable ratbags. The Kingdom advances with every meal shared with another, an alien, an outsider; it can only be flourishing when 14 STUMPers who have known one another for just a few days are able to bare their souls to one another. - Troy Wong
Troy is 18 and lives in Prospect, NSW. He serves faithfully at a local church in western Sydney.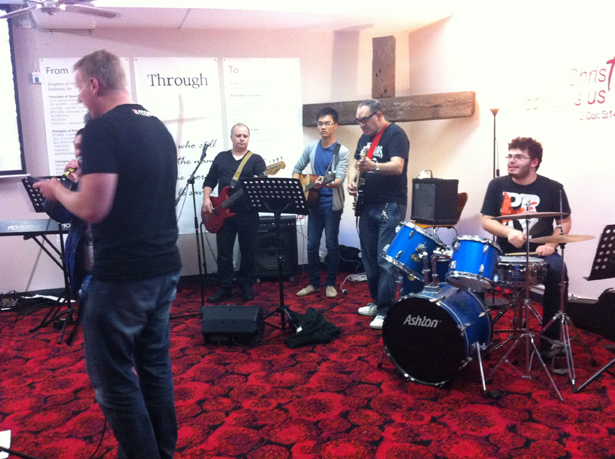 ---
Day Six: Friday, 12 July
The day began with preparing breakfast for the community members at Streetlevel. The next activity scheduled for the day was having a BBQ with asylum seekers. This was a very good experience. It was like having a BBQ with the family, as the asylum seekers were so warm-hearted and open. It was nice to learn about Hazara culture and each person's past. It would be interesting to teach one-on-one English, as I would also learn their language and culture. I'm considering it.
A touching experience was the Streetlevel church service. I could sense the strong community, as the worship team consisted of both Salvos and the homeless. Also, many homeless individuals shared their personal issues, and it was nice to see they could be honest without being judged or laughed at. - David Antonio
David is 21 and lives in Marsfield, NSW. He is a youth leader at Ryde Baptist Church.
---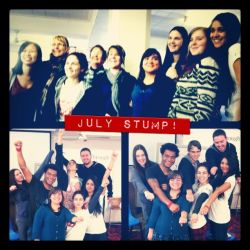 Day Seven: Saturday, 14 July
Being the last day of STUMP, it was quite interesting. Debriefing was good, to go over all the good times we had over the week and what our highlight was. But, honestly, my whole week was a highlight. I enjoyed every day this week and learnt a lot and somewhere, some part of me has changed for the good.
Kingdom training was the best, learning what the Kingdom is really about and some influential people in history.
Leaving was hard because I'd built friendships with everyone and I knew I'd miss Streetlevel. But I could see God working in that afternoon as we said our goodbyes and wrote our letters to our future selves. I knew we would all see each other again someway, someday. -Britney Starling
Britney is 16 and is a year 11 student who lives in Toongabbie, NSW
---
Read part 1 and part 2 of the STUMP stories.
To find out more about STUMP, head to edify.org.au.
(Photo supplied by Edify STUMP)