Australia One Update - 14 August 2017
14 August 2017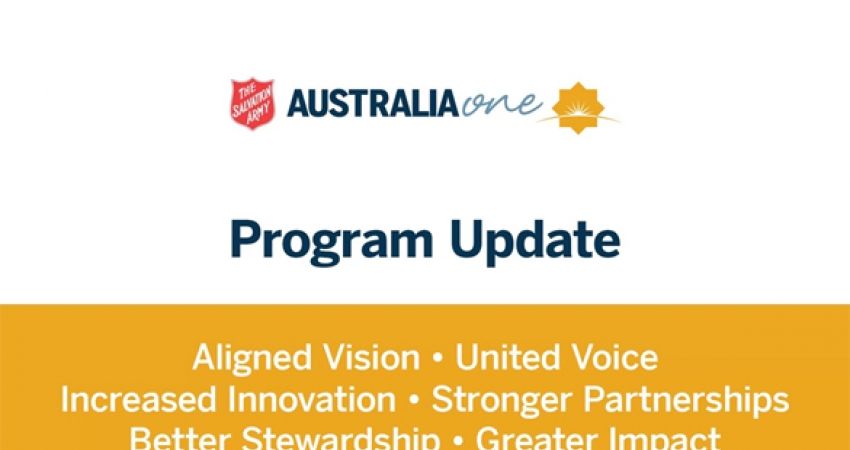 Vision Mobilisation Design Workshop
As outlined in the Australia One Program Update last week, our Vision focus now turns to mobilising our people.  This involves designing an approach that can be taken through a proof of concept in early September followed by a series of regional and local Vision mobilisation events in October and November 2017.
Co-facilitated by consulting team members who bring broad experience in developing and embedding Vision into organisations, as well as members of the Australia One Program Team, the objective of the workshop was to begin to develop ideas and a design approach for the Vision Mobilisation Program and the Vision Mobilisation 'Toolkit'.
Some of the content covered during the workshop included generating an understanding of what makes a successful Vision Mobilisation program, understanding the mobilisation needs for Salvos stakeholders, designing the mobilisation journey and agreeing next steps required to develop Vision events and toolkit materials.
The design workshop provided an opportunity for representative members of The Salvation Army to discuss, debate and understand what The Salvation Army's Vision means to Salvos, and begin to speak into and shape the ways that this inspiring Vision can be realised across The Salvation Army as it transitions to a united National Movement.
Australia One Intranet
We are excited to announce that an Australia One Intranet function has now been made available via the Australia One Website. The intranet allows us to share important internal news and documents relating to the Australia One Program and key transition activities with all AUS and AUE users across Australia.
Users will be able to log into the Intranet using their existing AUS or AUE email address and notes password. Please CLICK HERE or visit https://australiaone.info/how-to-log-onto-the-intranet/ for instructions on how to log on to the intranet and access the Documents section.
The first documents uploaded to the intranet include the July Personnel Pack.
Mission & Values Merchandise
A range of merchandise for The Salvation Army's national Mission & Values is available for order. Merchandise available includes bookmarks, magnets, posters and pull-up banners.
To place an order or for any enquiries simply send an email to katie.bui@aus.salvationarmy.org.
Keeping Informed
This update was originally posted on the Australia One website. 

You can keep up to date with the latest Australia One news and information by visiting the Australia One website, or in your monthly edition of OTHERS magazine.
You can also contact Australia One directly by email:
AustraliaOne@aus.salvationarmy.org (AUS)
AustraliaOne@aue.salvationarmy.org (AUE)