Australia One Update - 20 November 2017
20 November 2017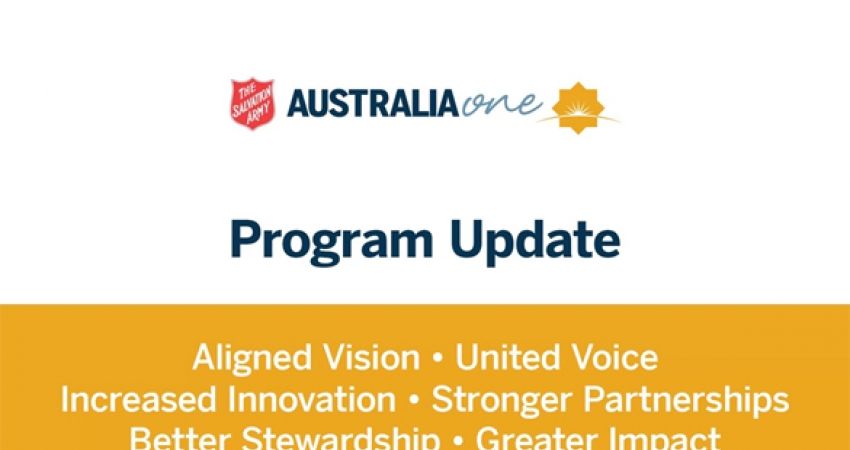 Key Points
THQ Vision Briefings this month
Gender Equity Committee update
Mission Delivery Proof of Concepts completed
THQ Vision Briefings
THQ 'Living Our Vision' briefings are happening this month:
THQ Vision Briefing Redfern – Thursday 23rd November 2017, 10:00am – 10:30am (AEDT)
THQ Vision Briefing Blackburn – Thursday 30th November 2017, 9.30am – 10:00am (AEDT)
National Commander, Commissioner Floyd Tidd will host both events and all THQ officers, staff and volunteers are invited to attend.
To ensure that these briefings are easily accessible, we will be live-streaming both events.
To access the live stream, head to: others.org.au/live
Nb. This link will not become live until Thursday 23rd November.
Gender Equity Update
On November 10 the first Gender Equity Committee meeting was held.
The committee is comprised of highly skilled individuals from The Salvation Army's HR, Colleges, Personnel, Mission, Social Justice and Women's Ministry along with four external professionals who have expertise in diversity.
The committee will prepare recommendations on what The Salvation Army in Australia can do to enable officer women to fulfil their full potential in the Army. As part of this the committee will consider: officer appointment, leadership development, and unconscious bias.
Working groups will be formed to analyse these initiatives and report back to the committee. From mid next year the committee will begin to look at gender equity across all employees in the Army, and from late next year it will examine diversity within the Army.
The goal of this work is to establish a culture of equity in which biblical teaching and Salvation Army theology of women in leadership informs our practice.
The Committee will meet every 4-6 weeks, with an expected 8 meetings per year.
For further information, please contact Julie.Campbell@aue.salvationarmy.org
Missional Delivery Operating Model
The two Proof of Concepts for the Mission Delivery Operating Model have now been completed.
On 13 November the Australia One team interviewed participating Area Officers Captain Vannessa Garven (Wagga, NSW) and Majors Neil and Sharon Clanfield (Brisbane, Queensland) about their experiences.
We look forward to sharing these video stories with you in an upcoming Australia One Program Update.
Keeping Informed
This update was originally posted on the Australia One website. 

You can keep up to date with the latest Australia One news and information by visiting the Australia One website, or in your monthly edition of OTHERS magazine.
You can also contact Australia One directly by email:
AustraliaOne@aus.salvationarmy.org (AUS)
AustraliaOne@aue.salvationarmy.org (AUE)