The Quest for Gender Equity
19 July 2018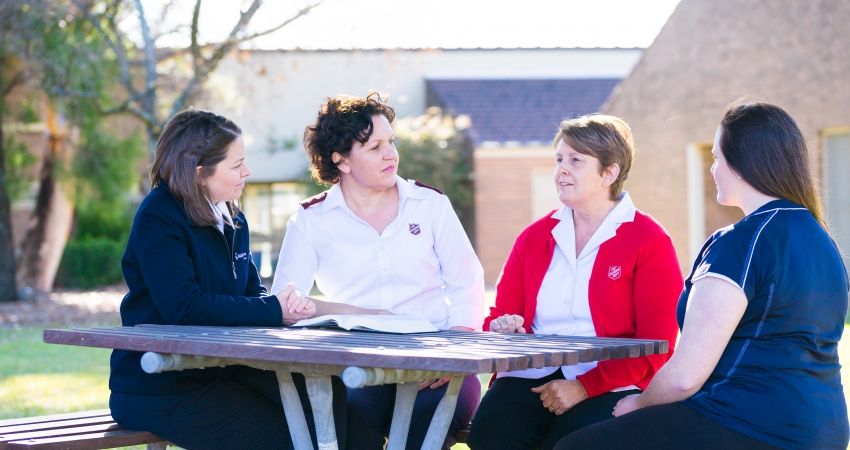 The Salvation Army in Australia is on a quest for gender equity.
It began in London, at the Army's International Headquarters in April 2017. Commissioner Floyd Tidd had outlined some of the proposals for the new Australia Territory. Then Commissioner Tracey Tidd presented a Gender Equity Plan. It was, she said, designed to "address systemic gender inequality, including that faced by women officers".
Then it was time to put the plan into action. In August 2017 a key appointment was made. Colonel Julie Campbell was appointed National Gender Equity Advocate. She soon began to recruit top-level women and men from the community and from within the organisation for a Gender Equity Committee. In November that year, Colonel Campbell chaired the first meeting.
"There's been a lot happening in the gender equity space," she says. 
June 2018 saw the launch of a new initiative that will see twenty-two women officers from around the nation spending 12 months moving through a leadership development pilot. Every month they will meet with an experienced coach of their choice. They will complete a 360 degree Emotional Intelligence assessment and with their coach they will identify their strengths and areas for growth. 
Participants will work with their coach to determine other focus areas, under the three main themes of: Self Leadership; Team Leadership; and Leading Mission. 
The participants were nominated by Territorial & Divisional Leaders and are from a variety of appointments.
While the participants in the pilot group are all female officers, the accompanying handbook has been designed to benefit any leader in The Salvation Army – regardless of gender, age or role and the idea is that it might be a foundation for future leadership development.
Karen Lattouf, Leadership Development Consultant, Personnel Department designed the pilot. Karen says that a side effect of the program is better information for the Personnel Department. "We will have more evidence to place people in appointments that fit their skills, experience and potential."
Of course, developing women will not automatically result in more opportunities for women.  
"We haven't lacked for development opportunities for women officers. We have had both in-house and external leadership development programs and the gender breakdown has been fairly equal. What haven't been equal are the ensuing leadership opportunities. We need to change our organisational mindsets and practices."
"The last thing we want to communicate is that women need to be fixed in order to be good leaders. This is far from the truth. What we need to ensure is that women are given equal opportunity. We need to make sure their confidence as leaders is not whittled away by lack of opportunities".
Colonel Campbell is working hard to increase opportunities for women in the organisation.  
"We've set a goal of a minimum of 30% men and a minimum of 30% women on all boards and committees", she says.
"You will notice this in the recently formed boards and in new appointments. This is not about tokenism. We need the right people, in the right places, using the gifts and abilities God has given to them. Having a diverse group in decision making will help us to make good decisions."
Colonel Campbell dreams of an Army which harnesses all the gifts available. "I see a Salvation Army in Australia that uses the gifts of all Salvationists and staff. That has got to make us stronger for God as we work together in our community to share the love of Jesus. And I think it will inspire younger Salvos to be involved, because they know that that we value their passions, gifts and abilities."
After reviewing findings from a survey among women officers, the Equity Committee has urged several definite steps. The Personnel department is exploring flexible working arrangements for officers. Colonel Campbell says, "Human Resources are also looking at the issues across the board for staff and volunteers within The Salvation Army. We want to have equity throughout the movement."
Colonel Campbell sees that it is her role to come alongside others. "Creating the awareness and asking the questions; that's how I see my role. There are a lot of other people working on these issues and it's my job to work with them. As we look at department designs and appointments and talk about what we want The Salvation Army to look like in the future it is critical that we get this right. As we live, love and fight alongside others to see Australia transformed with the love of Jesus, diversity and equity are absolutely key."