Christmas Toolkit 2021
A range of toolkits (below) have been prepared to support Salvation Army mission expressions to plan Christmas services and wider Christmas community activities. The resources celebrate the birth of Jesus Christ, and encourage exploration and sharing of faith.

Content can be used for faith services, community events, social media and websites in the lead-up to, and over the Christmas period. Many of the resources are editable, to allow the addition of customised and personalised messages.
If you are looking for a beautiful Christmas card to send to friends and family, The Salvation Army 2021 Christmas card is now available to order online at a cost of 0.40 cents each (excluding postage). This lovely card features the words 'Happy Christmas 2021' framed by festive icons in the shape of the TSA shield. The interior of the card features its primary greeting of "May you be filled with joy and peace, overflowing with hope this Christmas", along with a bible verse from 1 Thessalonians 1:1b, WE.
Be sure to place your order before 26 November to allow for delays with Australia Post.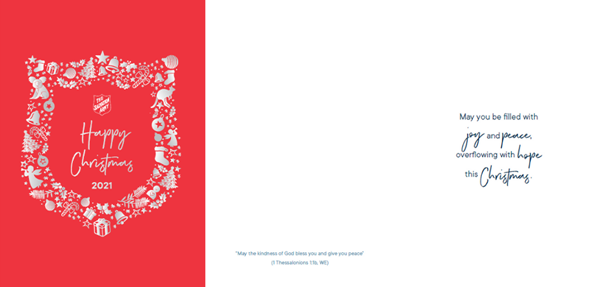 .