Andre Ramraj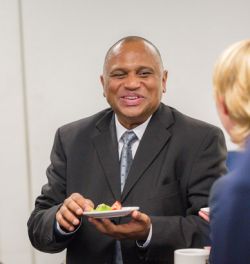 Andre Ramraj is a Care Service Employee at Riverview Gardens Aged Care Plus Centre. Andre was a Fellows recipient in 2015, and commenced his Bachelor of Nursing at the University of Southern Queensland with his scholarship.
What inspired you to apply for the Fellows Program?
I wanted to add value and a better service in my community. 

How has the Fellows Program allowed you to overcome barriers, and achieve your educational/professional goals? 
It is very expensive to study and the Fellows Program has assisted me tremendously and allowed me to overcome a financial barrier.
What have you been able to achieve/implement into your workplace as a result of the Fellows Program? 
I have contributed by mentoring junior staff within my Centre. They have been inspired by story. 

How have you been able to positively influence the work and mission of The Salvation Army through the Fellows Program? 
The Fellows Program has given me a positive attitude and has made me believe in the core values of the Salvation Army. 
How have you personally benefitted from this opportunity?
I have most definitely befitted from this opportunity! The Fellows Program was the answer to my prayers. 

Do you have any further plans to study in the near future? 
Yes, I would like to specialise in the dementia field.

What advice would you give others who are interested in applying for a Fellows Program?
This is an opportunity to for you to shine! Be a go getter and a trendsetter! You can do it!