Temora Corps honours transition in leadership
7 February 2012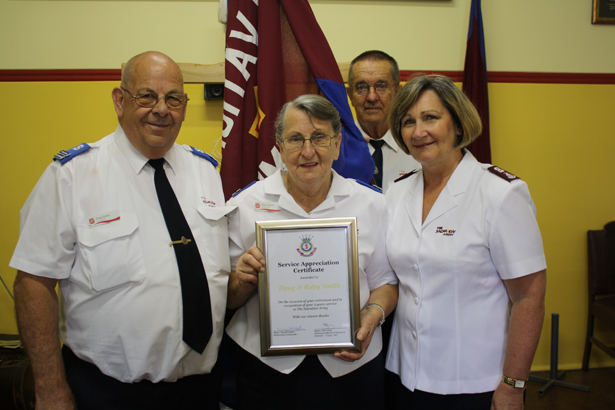 Major Julie Alley conducted the retirement service of Corps Leaders Doug and Ruby Smith. Photo: Dale Murray.
A packed congregation at Temora Corps witnessed two special ceremonies on 15 January – the retirement of Corps Leaders Doug and Ruby Smith and installation of Caleb Smith as the new leader. Both segments were conducted by Major Julie Alley, the Divisional Resource and Mission Director (Corps) for the ACT and South NSW Division.
Major Alley spoke of the love, compassion, integrity and godliness shown by the Smiths during their three years of ministry as Corps Leaders at both Temora and West Wyalong Corps. A large portfolio of letters and photos from officers and soldiers from across the Australia Eastern Territory was presented to the Smiths, including letters from Territorial Commander Commissioner James Condon and Major David Godkin (Divisional Commander 2011) which Major Alley read out. 
Corps Sergeant Major Ian Clarke spoke with affection of the Smiths' ministry in Temora and how the respect of The Salvation Army in the community had increased significantly during their time. In responding, Doug Smith thanked the congregation for their support and love and urged them to give the same support to Caleb and his wife, Jennifer, and daughter Lydia.
Doug and Ruby were then presented with a retirement certificate, but they aim to be just as active in retirement with plans for a road/camping trip around Australia, spreading the Good news of Jesus to fellow travellers. They also plan to assist Salvation Army corps along the way under the banner of "Following the Road – Serving Christ." 
Following his installation, Caleb Smith presented the Bible message based on 2 Corinthians 11:22-33. In the message, Caleb reflected on the many 'journeys' written about in the Bible and reminded the congregation that God is a God of journeys and encouraged them to discover what journey God has planned for them by actively reading His word.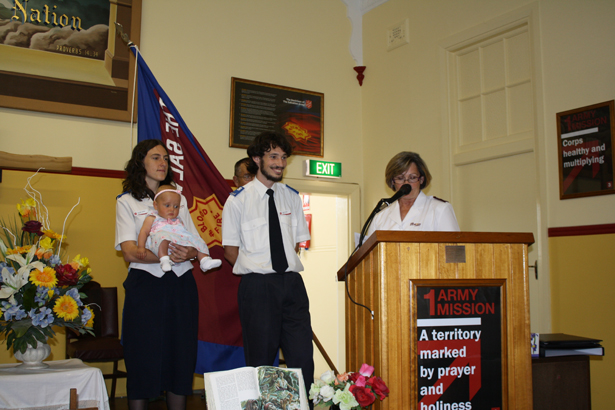 Major Julie Alley installs Caleb Smith as Temora Corps leader. Photo: Dale Murray
At the conclusion of the service, a fellowship lunch was enjoyed by all at which Doug and Ruby enthusiastically modelled their new ministry T-shirts and caps.
Story: Dale Murray