... and be thankful
29 May 2012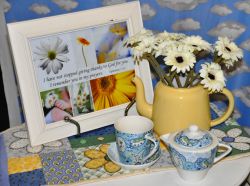 Despite the rain falling on an overcast day, the staff and cadets at The Salvation Army Booth CollegeSchool for Officer Trainingtook time out over morning tea to reflect on being thankful.  Having just celebrated the National Day of Thanksgiving it was quite timely to consider what we have to be thankful for and who we can offer a gesture of thanks to.
As folk entered the dining room for morning tea they were greeted with a visual display created by Major Rowena Smith, Residential Manager for the School for Officer Training, enabling an atmosphere of thankfulness.  Of course as soon as everyone saw the beautiful morning tea prepared by college cook Jacqui, everyone was automatically full of thanks. 
Major Donna Evans, Vice Principal of Booth College, reminded the cadets of the concept behind the National Day of Thanksgiving.  She reiterated the words of Paul in Colossians 3:15 saying "Let the peace of Christ rule your hearts, since as members of one body you were called to peace.  And be thankful."  The cadets and staff were encouraged to thank others within their own college community as well as outside in the local community by offering them a "Thank You" card especially provided for this occasion.
Many of the local businesses surrounding the Training College support the cadets by means of discounts on products or services rendered.  With this in mind, some of the 1st year cadets thought it would be nice to give those businesses a "thank you" card as a way of showing appreciation for their kindness and building relationships in their community.
While everyone was in the mood for saying thank you 2nd year Cadet Lesley Newton took the opportunity to show her thanks on behalf of her session.  Having only just returned from 11 weeks of their Supervised Ministry 2 Training, the "Proclaimers of the Resurrection" session are settling back into the routine of college life.  "We're all thankful to the staff for sending us out to a various appointments and thankful to the 1st year cadets for holding the fort while we were away" said Lesley.  All the 2nd year cadets were so thankful for the support of the staff and their fellow cadets during their out-training period.
So "lesson 101" in acknowledging the work of others and showing thankfulness in a practical way has been completed at the training college this week.  What a great start our new Officers will be off to when they get into their first appointment.  Showing your thankfulness will go a long way in building good relationships with those you meet and partner with.  "And be thankful"…..it's a lesson we can all learn.
 Report by Major Carolyn Harmer