Olympics Fever
30 July 2012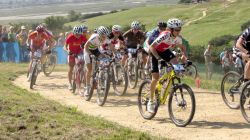 ---
With the London Olympics starting today, there will no doubt be a few bleary-eyed sports fans around Australia over the next few weeks. Not so for a group of Aussie missionaries who will be experiencing the games first-hand on a once-in–a-lifetime mission trip.
Major Trevor Nicol, Hurstville Corps Officer, will be leading a mission team for 10 days during the Olympics that will focus on sports and children's ministry. The second team will be led by Major Mark Brooks, Eastlakes Corps Officer, for two weeks during the Paralympics. This team will participate in service projects, hospitality and community outreach. 

"We'll be supporting the excess of visitors. You've got millions of people coming into the city which is putting pressure on the local economy and local community. So we'll be trying to ease some of that pressure," says Nathaniel Brown, Territorial Youth Missions Coordinator.

"We'll be meeting the needs of the community through sports clinics, kids' afternoon programs and community meals."

THE Salvation Army's Hadleigh Farm, in Essex, England, will host the mountain bike competition at this year's Olympic Games. 

The mountain bike course sits on part of The Salvation Army's 900-acre Hadleigh Farm, which has a long history of helping unemployed people and adults with special needs, into training and employment. The land was bought in 1890 by Salvation Army founder William Booth as the location of a farm and training centre to help poor people from industrial London.

Today, the site includes The Salvation Army's Hadleigh Employment Training Centre – providing employment and life skills for a wide range of vulnerable adults – as well as tea rooms run by the trainees which are open to the public. 

The Salvation Army and Essex County Council are developing legacy plans for the course to ensure not only a great event at the Olympics, but also long-lasting benefits for the local area and community.

Find out more about Hadleigh Farm and its association with London 2012 at www.salvationarmy.org.uk/london2012