You are here:
Home › News › 2012 › 08 › 01 › Helping Homeless No Longer Just A Job For Welfare Officer Joc
Helping homeless no longer just a job for welfare officer Joc
1 August 2012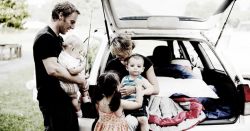 ---
I had one client who came in this morning – he gets about $500 a fortnight with his income and he pays $400 a fortnight on rent … I can understand what that's like now. 
– Joc O'Connor, Batemans Bay Salvation Army
Salvation Army welfare officer Joc O'Connor has this year experienced what most of his counterparts only see on the other side of their desks: homelessness.
"It was a terrible time," he says as he describes losing his supported lodgings at a Batemans Bay drug and alcohol residential centre where he was a volunteer.
Suddeny, Joc found himself joining the 100,000 other Australians who have no roof over their head.
"They (NSW Housing) told me that they'd put me on a priority housing list but priority housing was still a seven-year wait," he says. "I ended up having to stay in my car… it was humiliating."
Despite the stress of being homeless, Joc managed to continue in his part-time job as a welfare officer with The Salvation Army. And throughout his ordeal, he continued to be thankful to God.
"I've been doing welfare for five years now and I think I was getting a bit hardened," he says. "So God said to me: 'OK, I'm going to show you what it's like to be homeless!'
"I just thanked the Lord for bringing me to my knees. He was hard, but he was gentle."
A member at the Army's Batemans Bay Corps on the NSW South Coast, Jocwas able to borrow a fellow Salvationist's caravan. He rented a space at a local caravan park, andwhile there he met three other men living in tents due to homelessness.
Figures from The Salvation Army's Emergency Relief Vulnerable Groups Program show that in the six months to the end of last year, demand for the service grew by 35 percent on the same period the previous year. The service provides free emergency relief for families and individuals at risk of homelessness.
Whilst Batemans Bay Salvation Army doesn't have an Emergency Relief Vulnerable Groups program, it is seeing increasing numbers of homeless people at its welfare office.
"They're living in cars, they're living in caravans and tents … It's becoming an epidemic," says Joc.
After four weeks without a place to call home, Joc finally found rental accommodation that was within his budget. He says the experience of being homeless has humbled him.
"Sometimes we can get hardened by society … and we forget that Jesus just wants us to love people where they are at," he says.
"That's been made aware to me – to just love them. They might be addicts but I've got to love them. They might be an alcoholic, but I've got to love them. I've just got to be there and support them."
It's has been a tough year for Joc, but, he laughs, "it only gets better with God!"