You are here:
Home › News › 2013 › 02 › 21 › Conferences Encourage Women To Live A Life Of Abundance
Conferences encourage women to live a life of abundance
21 February 2013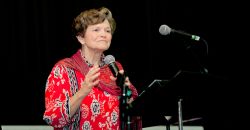 ---
Hundreds of women from across The Salvation Army's Australia Eastern Territory have gathered in three different locations this month to hear teaching from American officer Lieutenant-Colonel Connie Canning.
Lieut-Colonel Canning has been the guest speaker for the Captivated by the Word conference in Sydney from February 15-17, Embrace in Brisbane on 11 February, and Captivated Coffee and Dessert in Townsville on 12 February. 
The theme for all three events has been "abundance", based on the Bible verse John 10:10. Lieut-Colonel Canning, from the Army's USA Southern Territory, instantly engaged the audiences with her humour, warmth, and love for God. She spoke with passion, conviction and depth, emphasising God's extravagant love and grace, the abundant life he promises regardless of circumstances, and our need to celebrate his work in our lives.
"Only when living with Christ does life become worth living, worth celebrating," she said. "God has issued us an invitation to an abundant life, to joy and to celebration, even in the midst of the challenges and trials we face each day."
Lieut-Colonel Canning challenged the women to accept the invitation, unwrap the gifts God has given them and begin the celebration.
The meetings in Brisbane and Townsville were evenings of laughter, joy and worship as women from around the Army's South Queensland and Central and North Queensland division gathered for the celebrations.
In Townsville, the Filipino ladies sang, with six from the group also each painting a canvas that, when put together, became the face of Jesus.
In Brisbane, different corps combined to provide music for the evening, and powerful testimonies were given as both interviews and presentations.
The weekend conference in Sydney, with the added benefit of additional time, also featured a 16-station prayer walk and variety of workshops. Lieut-Colonel Canning, with her husband, Lieut-Colonel Don Canning, ran a marriage enrichment workshop for which they are both certified leaders and trainers.
During the Saturday "Night of Abundance", Sarah Rowan Dahl, a painter and worship artist, and vocalist Rebecca Raymond, soloist with the Army's Melbourne Staff Band, shared their passion for God through their painting and singing respectively.
All three events included a tribute to Colonel Robyn Maxwell, Territorial Secretary for Women's Ministries, who is leaving to take up a new appointment in the Philippines as Territorial President for Women's Ministries, beginning on 1 April.