Calling all keen doorknockers!
18 March 2013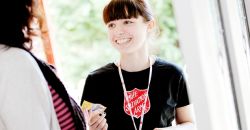 The annual Red Shield Appeal doorknock is rolling around soon. With a goal of $79 million dollars across Australia, we need your help!
We're calling on all Salvation Army and local community members to donate their time, and their enthusiastic doorknocking skills, to collect over the weekend 25-26 May 2013.
The event's a lot of fun, and you'll be raising vital funds to support the Salvation Army's vast network of social services. Your efforts may mean a roof to someone without a home, or education support for a child at risk of dropping out of school.
Whether a Salvationist or a regular community member, there are plenty of ways you can get involved.
"By donating a few hours of your time – either to collect or support in other ways – you'll be helping us to help almost a million Australians in the year ahead," said Territorial Communications and Public Relations Secretary, Major Bruce Harmer.
Our national goal for the Red Shield Appeal doorknock this year is $10.2 million. "We can't reach this goal without the help of generous Australians from every town and centre who doorknock for us," said Major Harmer.
The money raised from the Red Shield Appeal helps us help more than one million people a year to make ends meet.
"For some people on low incomes or government benefits, once they pay the rent they can have as little as $50 a week to live on," said Major Harmer. "It doesn't matter how frugal you are, or how good at budgeting – the money left after the rent is paid is simply not enough to cover a family's basic needs."
So whether you've been volunteering for the Red Shield Appeal for years or this is your first year, grab a friend and get involved. Every little bit helps!
The Red Shield Appeal collection period runs from 17 – 31 May 2013, with the weekend doorknock on 25-26 May.
Go to salvos.org.au/doorknock, call 13SALVOS or contact your local Salvos for more information.