Farewell to Mudgee
19 April 2013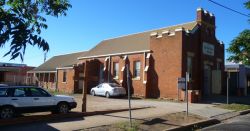 ---
After 128 years of active service in the community, the Mudgee Corps held its final meeting on Sunday, 17 March.
Many officers and soldiers who had been a part of the Mudgee Corps over the years, joined the small congregation and volunteers to celebrate the work done and lives changed for well over a century in this close-knit town.
"We wish to thank the people who have served faithfully as officers, soldiers and volunteers of this corps over the past 128 years and the outstanding difference they have made in the community," said Major Denise Parkinson, Newcastle & Central NSW Divisional Mission and Resource Director – Corps, who led the closing meeting.
"Please be in prayer for those who remain in Mudgee and for the mid-western region of NSW."
Major Gavin Watts, Divisional Commander, said that closing the Mudgee Corps was a difficult decision, based largely on a lack of trained personnel and limited financial resources.
"It is with much sadness that for the time being, The Salvation Army must say goodbye to Mudgee," he said.
"It has been The Salvation Army's sincere privilege to serve Mudgee and the surrounding towns."
During the meeting, Major Parkinson spoke from the Sermon on the Mount (Matthew 5), focusing on the many ways the corps has served the community, and in turn been supported by them.
"There is much to be thankful for, and to celebrate, as we now look forward," she said.
"It's the life and teaching of Jesus that is the rock upon which our faith is built."
Major Warren Parkinson, Newcastle & Central NSW Divisional Secretary, also spoke, reminding those gathered that the ministry of God through The Salvation Army was not limited to a building, but flowed from the hearts of those who love Him.
Major Parkinson thanked Major Mavis Stevens, who came out of retirement to lead the Mudgee Corps. Volunteers who have worked with The Salvation Army in recent years were also recognised.
Major Gavin Watts, Divisional Commander, encouraged corps members and volunteers to put what they had learned to use, either in another church or through the Salvation Army in another town.
Major Watts also read a letter from Commissioner James Condon, Territorial Commander, commending the Mudgee Corps for their service. 
"As the Corp is now officially closed, I pray you will recall memories and fellowship we shared over the years," he wrote.
At the end of the service, Major Stevens carried The Salvation Army flag from the citadel.