A short trip becomes a big mission
26 April 2013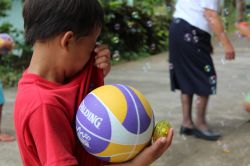 ---
A visit to The Philippines by two members of The Salvation Army Aged Care Plus executive team has become a lasting partnership – with a little help from the Sydney Kings.
Hearing about The Salvation Army's work with orphans and victims of human trafficking in Manila, Salvation Army Aged Care Plus Deputy CEO Operations, Maryann Curry, and Operations and Personnel Administrative Support Manager, Major Annette West, felt called to see the situation first hand.
Before travelling to the Filipino capital, the pair gathered gifts to take to the children of The Salvation Army's Joyville Children's Home and Bethany Orphanage – the two centres they were visiting.
"I did a bit of research and found out that one of the top sporting pastimes in The Philippines is basketball," says Maryann Curry. "So I ended up chatting to one of the owners of the Sydney Kings basketball team. He was so pleased because they do quite a bit of community service work here in Sydney. They were really happy to give me what ever I wanted to take over to give the children."
Armed with Sydney Kings basketballs, the two Aged Care Plus executives were a hit with the kids!
"The kids loved them… they're crazy about basketball and couldn't wait to hit the court and start playing"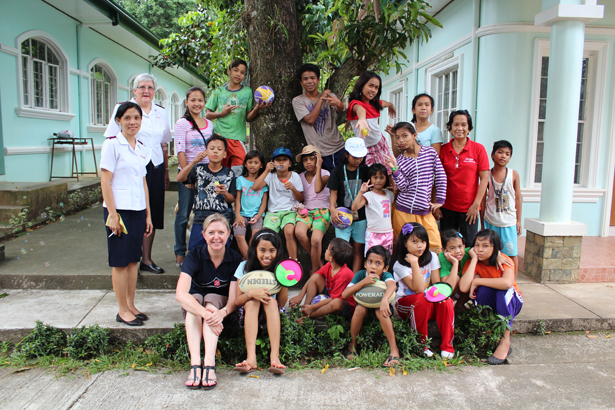 ---
The Salvation Army's Joyville Children's Home was set up in 1992 to care for street children who are orphans or who have run away from situations of abuse. Located just outside of Manila, the children receive schooling and learn agriculture in their rural environment.
The Bethany Children's Home in Manila is a safe place for children who are victims of sexual abuse and human trafficking. The Salvation Army cares for these children, aged 9 to 18, while their cases are being prosecuted through the courts.
Deeply affected by the extent of abuse, poverty and disadvantage they saw during their travels in and around Manila, Maryann Curry and Major Annette West returned to Australia determined to do more than just make a one-off delivery of basketballs to children who need so much more.
"Annette and I knew we had to have the capacity to do more for these children," says Ms Curry. "Aged Care Plus is now looking at how else we can sponsor and support the children in these two homes for the longer term."