Walkathon 2012 Donations Exceed Target
3 May 2013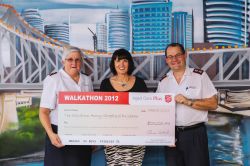 ---
"The impact of the Walkathon is very exciting," says The Salvation Army Aged Care Plus CEO, Sharon Callister, "Residents and staff in all of our centres take part and members of the community support them by joining in and raising money."
The Walkathon 2012 far exceeded its $70 000 target, raising a total of $86,187.50. The funds raised have been distributed between the The Salvation Army International Development Office (SAID) Malawi bush ambulance project, Streetlevel Brisbane and Streetlevel Sydney.
The Streetlevel community in Brisbane has been able to renovate and beautify their outdoor area thanks to the generous donation of $23 000.
"We are so thankful to Aged Care Plus," says Streetlevel Manager Major Bryce Davies, "This generous donation will be used to help us provide a safe, calm and healthy outdoor space for our community."
The Salvation Army Aged Care Plus CEO, Sharon Callister, says every year the Walkathon is held to raise awareness and much needed funds for disadvantaged communities both locally and internationally.
"We are delighted to be able to help improve the facilities offered at Streetlevel Sydney and Brisbane while also giving to the important Bush Ambulance project in Malawi," Ms Callister says.
SAID received $25 959.70 from the Walkathon 2012, the funds raised are going towards purchasing bush ambulances for use in remote districts in the impoverished African nation of Malawi – a service that will prevent about 80 per cent of deaths related to a lack of emergency transport.
SAID Director Major John Rees says while the funds raised will make a significant impact to a whole community it's about more than money: "it's a link between one community and another," says Major Rees, "it extends the boundaries of the Aged Care Plus community to another part of the world impacting on the people who give as well as the Malawi community."
"We are so thankful for the partnership with Aged Care Plus."
Streetlevel Sydney is putting it's donation towards a refrigerated vehicle to start a new program providing fresh fruit and vegetables to the Streetlevel community. This will allow access to fresh fruit and vegetables to a lot of people who it would not otherwise be financially viable.
The Salvation Army Aged Care Plus Walkathon will run again in September this year.