Glebe Choir has a reason to sing
17 May 2013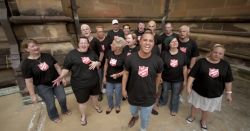 ---
Next to a trained choir, we might sound less rehearsed and refined," says Franc Lipovic, founder of the Glebe Community Gospel Choir. "But it's not about that, and it never has been about that."
What it is about for the Salvos Glebe Community Gospel Choir is enthusiasm, hope, connection and inspiration. Started three years ago by Franc Lipovic, the choir is for people who are currently undertaking The Salvation Army's Bridge Program or have graduated from William Booth House Recovery Services Centre.
From a slow beginning, with one person showing up some week, the choir now averages 25 people at their fortnightly rehearsals. They are led by musical director Karen Lattouf, with Captain Robyn Black playing piano.
"It's lovely to have people in the choir who are both in the Bridge Program, and people who have graduated who can talk positive life into those still in program," says Mr Lipovic.
The choir is closely linked to Glebe Salvation Army, and is now finding new avenues to source singers for their choir. People attending non-English speaking classes at the corps have been welcomed to rehearsals with open arms.
"The singing is just the vehicle. It's the communication, the sharing, and the spending time together that's important," says Mr Lipovic. "Our excellence is not in our singing. Our excellence, I think, is in our ability to work together as a family."
The choir was recently part of this year's Red Shield Appeal Campaign, and sang with the appeal's ambassador, Australian Idol winner and successful recording artist, Stan Walker. For choir members such as Aleisa Smith, this was an invaluable experience.
Aleisa joined the Glebe choir about 14 months ago when she was at William Booth House overcoming a drug addiction. When she was given the choice of going to a Monday night meeting, or going to choir, there was a clear choice.
"I've always loved singing. Singing just brings a whole other level of happiness," she says.
She graduated a couple of months ago, but still attends the choir and values it, acknowledging that many of the choir members are still on the road to recovery.
"A lot of the guys are still in program and are still fighting their way to get straight and sober. But for all of us, it's something to get excited about."
The encouragement the choir received from its involvement with the Red Shield Appeal and singing with Stan Walker has been priceless. Not only did it give them an opportunity to meet a successful singer and celebrity who didn't judge them for their past, but it also gave them a chance to give back to The Salvation Army.
"With opportunities like that, it's almost impossible to put into words the impact it can have. When you're in addiction, you become self-focused. One of the things, I think, that is a part of recovery, is that you start to think of others," says Mr Lipovic.
For Aleisa, sitting around a table with Stan Walker and the 'big guys' from Sony Music and being encouraged by them completely blew her away.
"You have a very low opinion of yourself when you're in addiction. You don't have that confidence. It's encouraging when people don't just treat you as a junkie or an alcoholic, but when they actually see you for something totally different," says Ms Smith.
The choir has been so grateful for the recent opportunities they have had, but their purpose still remains the same.
"It's about providing something for people that is safe and is of God," says Mr Lipovic. "If one person stays in the program and continues their rehabilitation because of the choir, then there is value in it."
---
Watch the Glebe Community Gospel Choir and Stan Walker sing Take It Easy: