Doorknock raises $6.17 million
27 May 2013
Thousands of Salvationists and community volunteers across the country have helped make this year's Red Shield Appeal a success – with $6.17 million raised nationally across the annual doorknock weekend.
Whilst the result is down slightly (by 5.93 percent) on last year's doorknock weekend result, Salvation Army spokesperson Major Bruce Harmer says there are still many regions where results are not yet finalised, "and there will still be official volunteer collectors out, and static collection points happening, during the week ahead."
After days of torrential rain across the eastern states, the doorknock weekend in Sydney dawned bright with sunshine. "God is good! Sunshine – woo hoo!" said Caringbah Zone Coordinator, Major Carolyn Harmer.
On the NSW north coast support for the appeal was overwhelming: "Even through threatening weather & low collector numbers, Salvo Red Shield volunteers went above & beyond to make sure the Nambucca Valley community had an opportunity to help those in need," said Nambucca corps officer, Captain John Viles.
The Salvation Army has thanked the 100,000 volunteer collectors who knocked on doors or manned static collection points around the country.
From 100-year-old Ruth in Port Macquarie in north NSW, to baby Baylie in central Sydney, the enthusiasm and hard work of collectors was inspiring.
"Bonnells Bay Salvos YOU ROCK!!!" Corps Officer Captain Tim Gittins posted on Facebook on the Saturday of the doorknock weekend. "Half way(ish) to last year's full weekend Red Shield Appeal total – and tomorrow's our "Big" day!!, with less than half as many Vols as last year!! Go team – You guys rock!!" (Later in the weekend he revealed the corps had exceeded its 2012 doorknock total.)
A record amount was also collected at Newington in Sydney's Marrickville/Dulwich Hill Zone. At Parramatta, corps officer Captain Deborah Robinson posted a thank-you note on Facebook on Sunday for the support of her local corps and community:
"550+ collectors, 140+ drivers, 9 district coordinators, static points all over the place, dynamic counting house team, fantastic caterers, child care, and clear skies. Surely a good result at Parramatta today. Grateful to God for an amazing team!"
The Salvation Army has also thanked the hundreds of Westpac volunteers who volunteered to open branches over the weekend for donations to be counted and banked.
"Westpac is a huge supporter of The Salvation Army," says Major Harmer. "For staff members to give up their weekends to open branches for us is a huge help every year."
The Red Shield Appeal collection runs until the end of June. Donations can still be made by calling 13 SALVOS (13 72 58), visiting salvationarmy.org.au, in person at any Westpac branch, or by posting a cheque to PO Box 9888 in your capital city.
---
Check out these snaps of Salvos from around the Territory.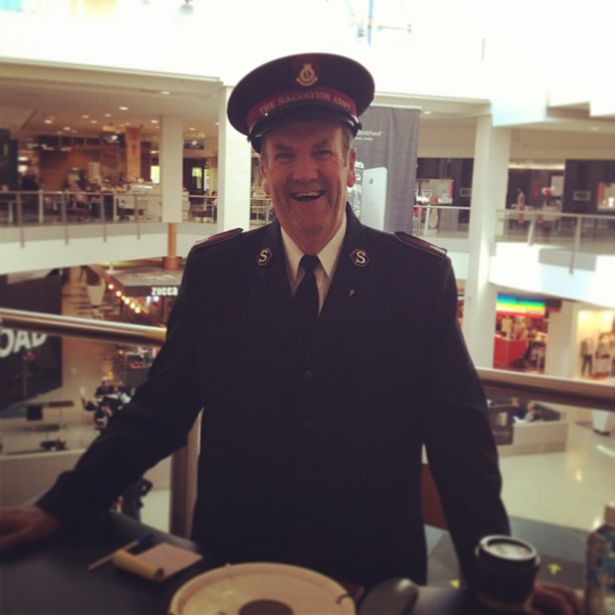 Commissioner James Condon collecting at Eastgardens Westfield in Sydney's east. "This guy leads by example - servant leadership!" said Matthew Gluyas. (Photo courtesy of Matthew Gluyas)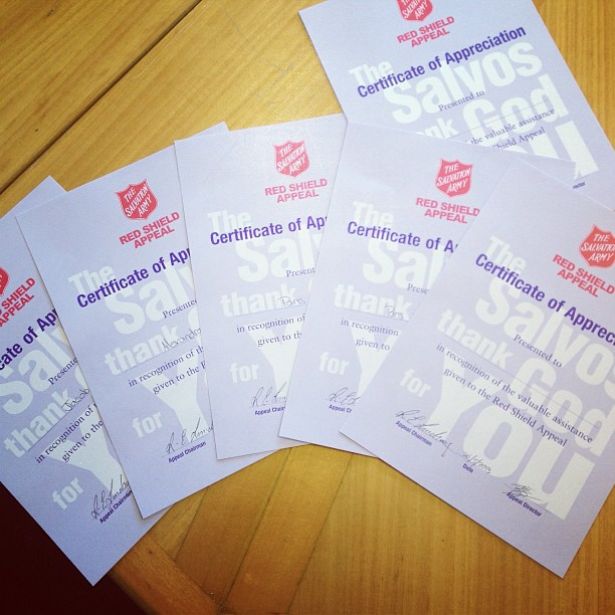 Certificates of appreciation at Nambucca Valley Corps. "Red Shield volunteers went above and beyond," said corps officer Captain John Viles. (Photo courtesy of John Viles)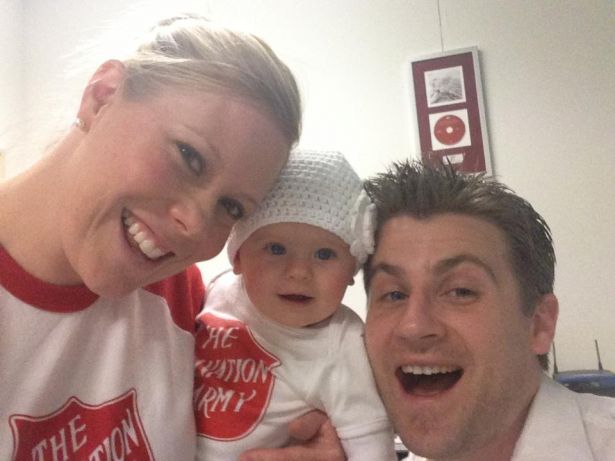 Was this Sydney Congress Hall's youngest collector? Little Baylie Sellers all dressed up to collect with mum, Brooke and dad, Ash. (Photo courtesy of Brooke Sellers)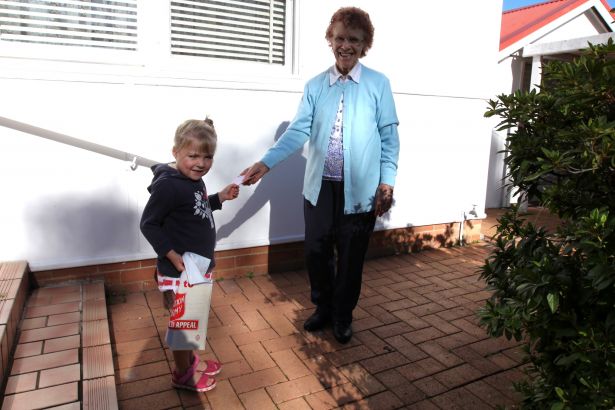 Four-year-old volunteer collector Annie Martin hands a receipt to a generous supporter. (Photo: Lauren Martin)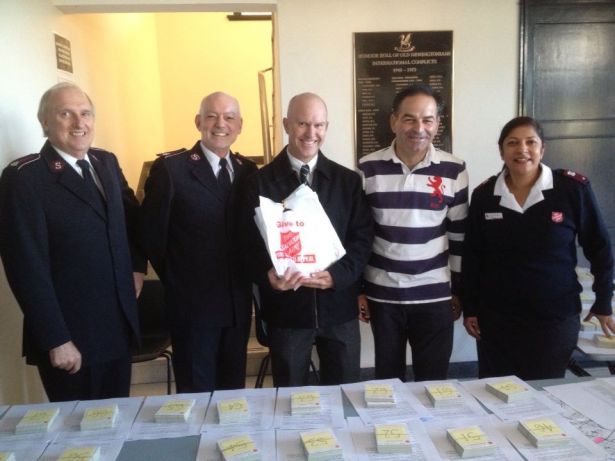 Marrickville/Dulwich Hill Zone Chairman Aris Dendrinos, Lieutenant Tara McGuigan & Newington College Head of Service Learning Mick Madden (holding bags) are joined at Newington by Lieut-Colonel Peter Laws & Colonel Richard Munn. (Photo courtesy of Peter McGuigan)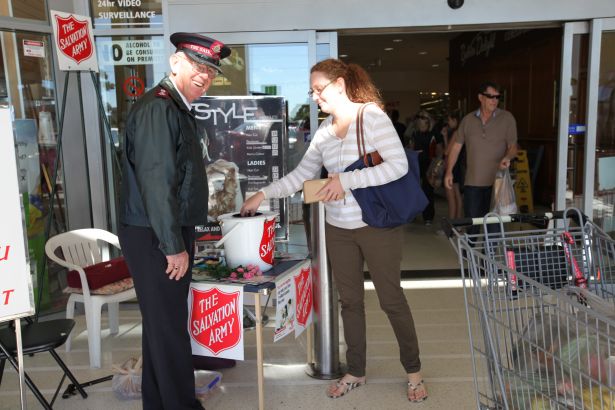 Retired Major Hilton Harmer holds the post at a static collection point in Caringbah, Sydney's south. (Photo: Lauren Martin)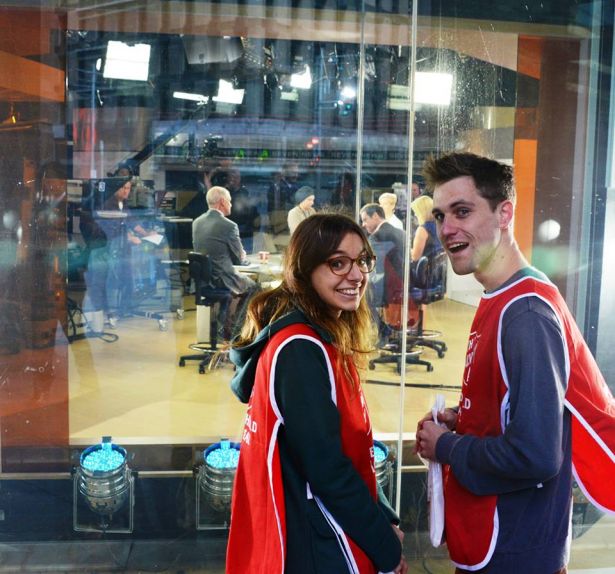 Elyse and Luke Nowell outside the Weekend Sunrise studios to promote doorknock weekend. (Photo courtesy of Bruce Harmer)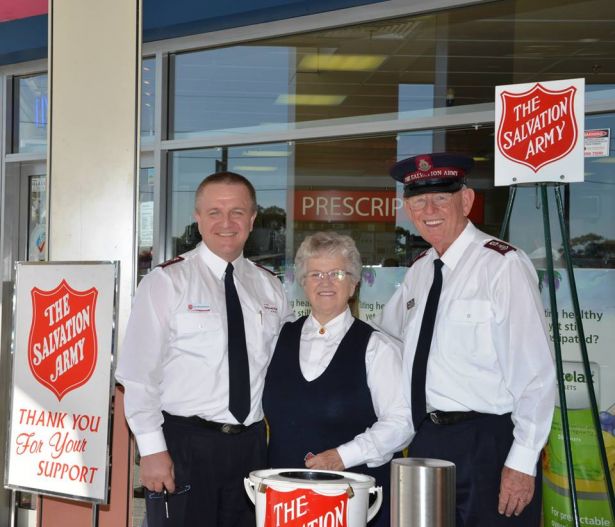 A family affair – retired Majors Hilton and Joyce Harmer with son Bruce collect in Caringbah, south Sydney. (Photo courtesy of Bruce Harmer)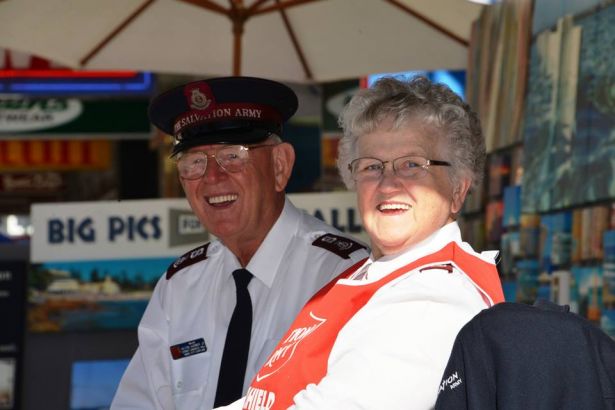 Majors Hilton and Joyce Harmer. (Photo courtesy of Bruce Harmer)