Bringing God to the ski slopes
8 July 2013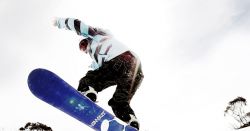 ---
The 2nd annual Salvo Snow mission trip is underway in the NSW Snowy Mountains town of Jindabyne.
Seventeen people from across the territory are spending a week in Jindabyne from 6 to 13 July. Once again, they've created a welcoming place for anyone to come and hang out and have a hot meal in the local Memorial Hall, away from the chilly conditions. 
Cooma Corps Officer Captain Louise Nicholson says this year the team hopes to engage with even more people and tell them about God.
"Last year we preached the gospel by our actions. This year we're going to be more intentional about bringing the story of the Gospel to people, using resources we have developed to tell people about Jesus in creative ways," says Captain Nicholson.
This year's team includes people from all over the Territory. Most are from Canberra and Cooma, while others have travelled from Sydney, Rockhampton and Grenfell.
"The members of Cooma Corps hope to be able to continue interacting with people we serve and link with as a result of this mission. As the winter season continues, we hope we'll be able to give ongoing support to those in need," says Captain Nicholson.
The town of Jindabyne was chosen for the mission as it is home to many ski resort workers. Often these workers don't get enough shifts to make ends meet.
The prayer of the mission team is that souls will be saved and saints will be grown.
"My prayer is that people will come through the door and have a life changing experience," says Captain Nicholson.