Public digs deep for Salvos
6 August 2013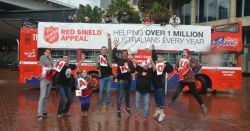 ---
The Salvation Army has thanked Australians for their generosity towards volunteering and giving to the 2013 Red Shield Appeal, which raised a national pre-interest figure or more than $70 million.
"With my deepest gratitude I would like to thank our volunteers and the members of our faith community – in particular our officers across the territory – for once again working hard to ensure that our Red Shield Appeal has been successful," saysSalvation Army spokesperson Major Bruce Harmer.
A total of $10 million was collected from the national doorknock and roughly $5.5 million was raised from the doorknock in the Australia Eastern Territory. The appeal closed on 30 June and these results are all pre-interest figures.
In particular, Major Harmer is grateful for corporate sponsors such as Westpac and Jones Lang LaSalle who not only gave financially,but also provided volunteers to collect over the doorknock weekend.
"My thoughts go to the many individuals and corporate supporters we have. I am so thankful for their financial and voluntary support this year. We simply could not do the amazing work we do without our individual and corporate financial supporters."
Major Harmer says the Australian community jumped on board with the tag line for this year's appeal, "You and me together, we'll be fine" taken from singer Stan Walker's latest single, Take it easy.
"Our message has been clear and strong this year and the Australian public and corporate Australia have responded to our call for support.
"I believe our result this year reflects the confidence that Australians have in our organisation to continue to provide high-standard services as we go about our mission of helping people find freedom from whatever it is that has become to them a burden."
The Salvation Army spends more than $500 million annually on its social welfare programs in Australia.
Meanwhile, it was another successful year of giving towards The Salvation Army's Self Denial Appeal.
The 2013 appeal raised a national pre-interest total of $3.8 million, exceeding the amount given last year.
"Thank you very much. It's just two small words but it means so much. What a difference this can make in building God's kingdom," says Stephen Burfield, Australia Eastern Campaigns Manager.