Penrith's new one-stop shop
6 September 2013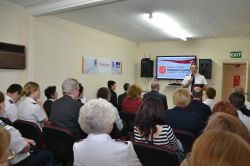 ---
The Salvation Army has officially opened its Nepean Penrith Freedom Centre – a holistic hub of services dedicated to helping those in need.
Operating from a building on Penrith's main street, the Freedom Centre has rapidly evolved in the past year, offering more and more services to become a place where people in need can access different help in the one location.
The Salvation Army's new Doorways crisis assistance program is being offered from the centre and has employed an extra case-worker due to demand. Moneycare – a free financial counselling service – has increased its hours from two to five days a week. And new Pathways recovery services and Sports Impact Leadership programs have just begun. The centre also offers Drive For Life and Chaplaincy Services.
Nepean Hub Strategic Team Leader, Captain Di Gluyas, shared her vision for the way she hopes the Freedom Centre will impact individuals and the entire community:
"That the greater west of Sydney will no longer be known as the second class city but a place where men, women and young people who are strong leaders of the future are coming from… Where brokenness will not rule lives anymore, and where restoration will come."
The centre's opening was attended by many representatives of other Salvation Army expressions within the Nepean hub who network with the Freedom Centre, such as Employment Plus, Salvos Stores and Youthlink.
Federal Member for Lindsay, David Bradbury congratulated The Salvation Army on its commitment to journeying with people in need.
"Often that is a long and difficult journey," Mr Bradbury said. "But to know that there are people in our community established here in these facilities in the centre of our town, doing that work, is something I think every person in this city would be very proud of."
The Mayor of Penrith, Councillor Mark Davies, spoke and presented a long-serving volunteer, Major Elva Banks, with a certificate of appreciation.
In officially opening the Nepean Penrith Freedom Centre, Greater West Divisional Commander, Major Gary Baker, dedicated the building, its services and its people to God.
"Today as we celebrate the beginning of a new chapter in this expression of The Salvation Army out here in the Nepean district, we would pray for your blessing on it and your guidance and your wisdom as we take it forward."