30 years of caring
25 September 2013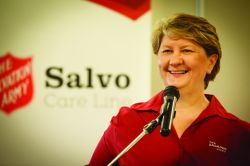 ---
Note: Salvo Care Line has closed since this story was published.
Salvo Care Line NSW has just celebrated 30 years of caring for people around the clock with a special thanksgiving afternoon tea and service at Sydney Congress Hall.
The telephone counseling service began on 1 October 1983, when Envoy Alan Staines, and his wife Lois, took the first phone call in their lounge room. Since then, Salvo Care Line has grown to providing care and support to around 70,000 people across Australia each year in two call centres.
Past and present volunteers and counsellors had the opportunity to fellowship over afternoon tea, with family and friends. And a volunteer shared her story of how The Salvation Army helped her family, and how she now gives back to Salvo Care Line. Afterwards a celebration service was held, which included a testimony from a William Booth House participant about how his life had been transformed by The Salvation Army.
One of Salvo Care Line's remarkable volunteers is 71-year-old John, who has been volunteering for 20 years. At the age of 21, John was in a horrific car accident that left him blind. John travels four hours on public transport with his guide dog by his side, just so he can complete his five-hour telephone shift.
"I like a challenge and this is a way that maybe I can be of some use to people," says John. "There's no barrier to this – it's just my voice people hear, so they don't know I'm blind. I feel I can relate to people and I have enough life experience to be able to empathise with them."
Today, around 150 volunteers can refer callers to one of the 8,000 services available to them on their database. Salvo Care Line supports and promotes the work of The Salvation Army by referring their clients as much as possible to their services.
Report by Karen Lattouf and Nathalia Rickwood