Cairns celebrates a century
2 October 2013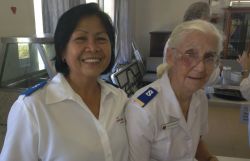 ---
Cairns corps has celebrated 100 years of having a place to call 'home' in the local community.
On Sunday 21 September, corps members gathered together to celebrate the history of the buildings it has based its ministries from over the past century.
A special morning tea followed, with the longest serving soldier and the newest soldier cutting a celebratory cake. Cairns Corps Officer, Lieutenant Darren Kingston, says community members also took part in the festivities, as the Cairns Corps has been a building of significance for many people over the years. "There have been people that have had funerals or weddings in the building."
The corps has a diverse representation of cultures, with people attending from Papua New Guinea, The Philippines, Bhutan, and Africa.
"Love others, love God, and make disciples of all nations is our mission statement," says Lt Kingston. "It's a celebration of not just Australian culture, but our multi-cultural society".
Past officers sent in letters of congratulations and reflections, praising God for the work that has taken place in Cairns over the past century.
"We will continue on for the next 100 years, God willing, to continue seeing people finding freedom," says Lt Kingston.