Direct from the TC: NSW Bushfires Relief Update
29 October 2013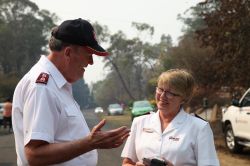 In the past week I have been so moved by the way Australia continues to respond to the worst of nature by displaying the best parts of humanity. For all the devastation I've witnessed I've also seen our people desperate to bring hope, rebuild lives and help communities find freedom.
On Friday we opened The Salvation Army Relief Support Centre in Springwood, which is already providing those in need with access to immediate financial assistance and other services including counselling, financial counselling and legal advice.
These services are made possible thanks to the extraordinary generosity and compassion shown by our Corps, numerous businesses and the Australian public. To date we have raised over 5 million dollars for The Salvation Army Bushfire Appeal. I would like to thank everyone who has already contributed.
If you would like to add your support you can donate to The Salvation Army Bushfire Appeal by calling 13 SALVOS (13 72 58), giving online at salvos.org.au, or in person at your local Westfield centre, Woolworths store, Westpac branch or Target outlet. Westfield and Woolworths are still matching public donations dollar for dollar until Friday, 1st November.
While the flames may have been turned back for now there are still reports that bushfires like these could appear again this summer. I ask that you please continue to pray for the fire fighters who are working hard to protect communities from further destruction.
Please also pray for those who have lost their homes and now face the task of rebuilding their lives. May God's love continue to give them strength in the months ahead.
Please continue to keep our people in your prayers. Many have been working long hours to support those in need since the fires began.
Finally please continue to pray for rain. There is significant drought in many parts of Australia and some good rain would extinguish the fires.
If you, or anyone in your community needs support please call the Salvo Care Line on 1300 36 36 22
Thank you for your support and prayers.

Commissioner James Condon
Territorial Commander
Australia East Territory