Hats off to Collaroy catering
31 October 2013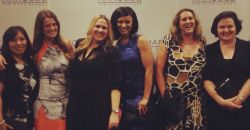 ---
For the second year in a row, The Collaroy Centre's catering team was a finalist at the Sydney Metropolitan Restaurant and Catering Awards on 30 September.
Competing against nine catering and restaurant businesses in the function/venue caterer category, The Collaroy Centre's catering team went up against high-profile establishments including Doltone House and Taronga Zoo. The team also competed against Scotts College in the industrial/institution caterer category.
"From my perspective we were sitting in a room with some of the most iconic venues not only in Sydney, but Australia. From Sydney Tower through to the Opera House, there were really big name celebrity places," explains Richard Javor, Manager of The Collaroy Centre .
"Sitting amongst these people was a little bit intimidating, but at the same time we felt honoured to be there."
Kristy Franks, The Collaroy Centre's Sales and Marketing Executive, who coordinated the team's nomination in the awards, said she was impressed by the team's ability to work together.
"We're very proud of everyone in the team for all working together. By putting a lot of effort in and being proud of what they do, in turn reflects in that award."
Mr Javor also added similar sentiments: "It's impossible to be recognised as one person. This sort of thing is done by countless people. Everyone from the guys who wash the dishes, the guys that serve, right through to the guys that even cut the grass."