Philanthropy Cate launches Red Shield Appeal
9 May 2014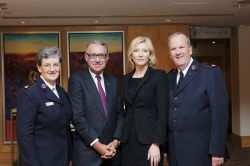 ---
Academy Award-winning actor Cate Blanchett was the star guest at the official launch of The Salvation Army's Red Shield Appeal at the Westin Sydney on 1 May.
Distinguished journalist and Director of Media and Public Affairs, Coca-Cola Amatil, Sally Loane, interviewed Ms Blanchett and David Gonski AC, Chairman of Coca-Cola Amatil and the ANZ banking group, together at the launch.
Both David and Cate spoke of their first experiences with Red Shield Appeal Doorknock. Cate described the moment where she realised as a young child the importance of philanthropy.
"I remember, I must have been three or four the first time the Salvos knocked on the door. I asked my grandmother what they were going to do with the money that they were going to put in the tin and she whispered to me, she said, 'Some children don't have homes'.
"And I went white and I went upstairs to my piggy bank, which must have had, you know, a dollar and three cents in it and I came down and gave it to them. Because I remember that moment thinking that not every child in Australia was like me."
Over 700 people attended to donate to the Red Shield Appeal and a total of $1.2 million was raised through the launch. This included a $200,000 donation from the Minister for Family and Community Services Gabrielle Upton on behalf of the NSW Premier Mike Baird.
For the fourth time, former Wallabies rugby union captain and Sydney Red Shield Appeal committee member, Nick-Farr Jones was master of ceremonies.
Among other guests were Stephen Conry, CEO of Jones Lang LaSalle and National Sponsor of the Red Shield Appeal Launch, and Roger Massey-Greene, Chairman of the Sydney Red Shield Appeal Committee.
Territorial Commander, Commissioner James Condon, who gave the opening remarks at the launch, praised the sponsors for their financial commitment to The Salvation Army.
"Thank you for standing with us. We are extremely grateful to you and we will move forward together," he said.
Guest speaker Susan Templeman shared her story of losing her 24-year-old family home to the bushfires that ravaged the Blue Mountains region in October last year.
Susan explained her family found it difficult at first to accept donated goods from The Salvation Army, as they were more used to giving rather than receiving. However, without The Salvation Army's assistance, Susan's family wouldn't be where they are today.
"We found ourselves very grateful to be able to get the basics for free. When you have lost absolutely everything, there's an awful lot you need to buy. That was just the start of the practical support that the Salvos provided us with."
For Susan, the greatest gift she received from the Army was a $5,000 grant for her 20-year-old son, Harry. After losing 10 instruments to the bushfires, the grant has enabled Harry to replace some of his instruments, equipping him with the tools he needs to start his music degree.
Alison Moore, a member of the Army's Booth Community Choir who performed at the launch, also shared her story. Tears welled up in Alison's eyes when sharing her struggles as an alcoholic and compulsive gambler.
Coming from a troubled family life, Alison explained when she was 15 she started to suppress her emotions with drugs and alcohol and began playing the poker machines at age 19.
In September 2013, Alison walked into The Salvation Army's William Booth House in Sydney where she began her journey of recovery from addiction by completing the bridge program.
"The 12-step program has taken me on a journey of recovery," she said. "The program changed my thinking and behaviour."
Throughout April and May, 23 Red Shield Appeal launches will be held across the Australia Eastern Territory. The 2014 Red Shield Appeal national goal is $80 million and $44.35 million for the Australia Eastern Territory.
The national Red Shield Appeal Doorknock will be held over the weekend of 24–25 May.