Multicultural launch sends message of hope
15 May 2014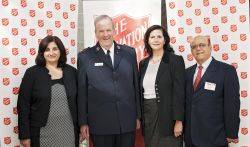 ---
A multicultural morning tea at Taaza Cafe in Sydney's inner west has kicked off The Salvation Army's 2014 Red Shield Appeal.
Representatives from multicultural media attended the event, spreading news of the Red Shield Appeal to Australia's many different communities and sharing powerful stories of hope and freedom.
MP for the Auburn area of Sydney, the Honourable Barbara Perry, shared her testimony at the event, speaking to the work that The Salvation Army does in her community and the hope it brings to the lives of the people there.
"Hope is something that is in short supply in many of our communities at the moment," said Mrs Perry.
"Hope says that the light is stronger than the darkness. Hope says that the universe is a friendly place. And hope acknowledges that while life can be difficult and the road marred by suffering, that we don't need to give up.
"The practical actions of the Salvos is a direct outworking of the hope I'm talking about. These practical actions are not only reserved for those who believe what the Salvos believe. But they are given without discrimination because at the heart of their work is a belief in the dignity of each person, regardless of their background, their own faith or lack of it."
Territorial Commander for the Australia Eastern Territory Commissioner James Condon spoke at the launch about the organisation's desire to help everyone, without discrimination and giving them a voice to share their story.
"One of the challenges we face is getting the message out about what The Salvation Army is doing to help all Australians," he said.
"Australia is a land of opportunity. A land of hope. A land of freedom. I want to ensure The Salvation Army I'm leading is connected with people who have come from distant lands to make this their home.
"Wherever The Salvation Army is serving, we seek to meet human need without discrimination."
Other special guests at the launch included Parliamentary Secretary to the Minister for Social Services, Senator the Honourable Concetta Fierravanti-Wells and CEO of Multicall Connexions and the Master of Ceremonies Sheba Nandkeolyar.
The annual Red Shield Appeal Doorknock weekend is being held on the 24-25 May.