Be part of the great Australian doorknock
19 May 2014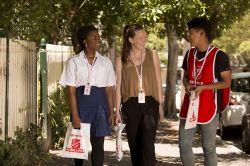 "If there's a man here who hasn't had a square meal today, let him come home to tea with me!" shouted John Gore, standing on a greengrocer's cart back in 1880.
This extraordinary event, held by John Gore and Edward Saunders, became what is believed to be the first Australian Salvation Army meeting.
Little would Gore have imagined that within a century, The Salvation Army would be feeding almost a million Australians.
Working side-by-side with troops in Gallipoli and the jungles of Kokoda, at soup-kitchens during the depression, and at the forefront of major disaster, the story of The Salvation Army is part of the fabric of Australian history.
This deep relationship is celebrated in the 2014 Red Shield Appeal television commercial. And it's a relationship that is increasingly important to modern Australians, according to Territorial Communications and Public Relations Secretary Major Bruce Harmer.
"We talk about helping one million Australians each year. When you stop to consider our population is just over 23 million, that is an astounding fact," he says.
"It is even more astounding when you realise that helping one person out of poverty, despair or addiction can have a profound flow-on effect to families and whole communities."
Major Harmer called on Salvation Army and local community members to become involved in the Red Shield Doorknock over the weekend of 24-25 May.
"By donating a few hours of your time – either to collect or support in other ways – you will be helping us to help almost a million Australians in the year ahead.
"Our volunteers are the lifeblood of the Red Shield Appeal."
The national goal for the Red Shield Appeal Doorknock this year is $10 million. This will form part of The Salvation Army's Red Shield Appeal, which aims to raise $80 million across Australia.
To volunteer for the doorknock weekend, register by calling 13 SALVOS (13 72 58) or at  www.salvos.org.au/get-involved/help-us-fundraise/red-shield-appeal/doorknock-registrations/