Taking a creative approach to homelessness
21 May 2014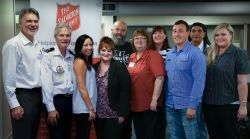 ---
Almost twice the number of homeless people in the Newcastle region are finding comfort and support, thanks to the merger of three Salvation Army crisis services late last year.
The new model focus offers a huge range of integrated services, including intervention and crisis care, outreach programs and easier access to local health and disability services.
According to the Director of the new Salvos Youth and Accommodation Support Services, David Baker, the new service is intensively supporting almost double the number of clients.
"We have moved from an intensive, residential crisis model to a mix of outreach, early intervention, crisis, transitional, medium-term and longer-term options," says Mr Baker.
"We use an outreach–case management model, looking at all the issues that affect these people, the reasons why they might not be able to maintain their tenancy, and then looking at support services and resources available," says Mr Baker.
"One example might be a grandmother who says she has a wayward grandson living with her, and doesn't know if she can cope any more. We now have the option of offering outreach support for the grandmother and grandson to keep them out of a crisis situation and in their family home."
The Salvation Army closed Newcastle's Anchor Men's Crisis Centre in December 2013, introduced a men's crisis hub, and began an initial restructure of the women's arm of the service.
A purpose-built women's crisis hub and family units are under construction.  The service is also a signatory to the 'This Way Home' project, which offers additional short-term care in the local area in conjunction with other local agencies.
The restructure came about through recommendations made in an external review commissioned by local Salvos' services. It coincides with the launch of the NSW Government's 'Going Home Staying Home Reform Plan', which has a much greater emphasis on preventative care.
The new service has also signed memorandums of understanding with local services, including mental health and disability services.
"This means we can now offer much more collaborative care for clients and look at creative ways of 'wrapping services' around them," says Mr Baker.
The service also provides chaplaincy support for clients, in line with The Salvation Army's ethos of spiritual care to offer spiritual support.
The "far more integrated and holistic" service, Mr Baker says, "is already working at a much greater level of effectiveness for clients, and allows us to be far more innovative and creative in addressing the problem of homelessness."