THQ to relocate to Redfern in 2015
3 July 2014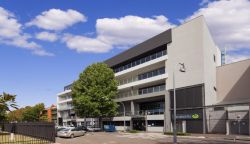 The Salvation Army's Australia Eastern Territorial Headquarters is moving 2km down the road from the current Elizabeth Street building in the Sydney CBD to Redfern by mid-2015.
The relocation was announced to the territory at a Town Hall meeting at Sydney Congress Hall on Thursday, 3 July.  Many individuals across the territory were able to join with territorial headquarters staff for the announcement via live streaming.
The relocation building faces Redfern Park at 261-265 Chalmers Street. The building purchase and fit out will be funded by the sales of other Salvation Army properties as well as some investment funds.
"It is important that I stress that no donated funds from the Red Shield Appeal will be used for this relocation and I reiterate we are investing in the future of the territory," says Commissioner James Condon, Territorial Commander.
The existing territorial headquarters space will be leased out to provide additional income and will also remain the church building for Sydney Congress Hall city church.
Territorial headquarters will occupy three floors of the 11,500 square metre five-story building. Part of the building is occupied by two tenants, a Woolworths Supermarket and the South Sydney Leagues Club.
The decision to relocate has been in the making for many years. Commissioner Condon explains the current building to be too cramped and the building requires an extensive upgrade.
After an extensive search with roughly 50 other buildings considered at Darling Harbour, Strathfield, Parramatta and Hurstville, the Redfern property was identified as a suitable building. 
"The building is more than adequate to house us now and the acquisition is futuristic in terms of there being adequate space well into the future for any possible expansion of territorial headquarters," says Commissioner Condon.
Along with more space, office areas will be open plan to allow better interaction between departments, the outdoor balconies can be used as work spaces and wireless technology will be available across the building.
Every floor will be fitted with an open kitchen area, a chapel will be built to seat 400 people on the first floor along with meeting rooms and the building has a car park with 175 spaces. 
Along with a staircase and two lifts upon entry at ground level, The Salvation Army is hoping to build a staircase between levels two and three where most of the office space will be situated.
The Salvation Army first purchased the Elizabeth Street building in 1926. The current territorial headquarters building and Sydney Congress Hall was then rebuilt and officially opened on 20 October, 1990. The first territorial headquarters was based at 63-69 Goulburn Street Sydney.
The move to the Redfern building could take up to a maximum 14 months but The Salvation Army hope to relocate sooner. To watch the relocation announcement, visit video.salvos.org.au