A moving farewell to Hadleigh Lodge
5 August 2014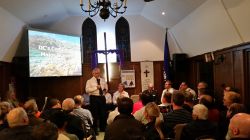 ---
Hadleigh Lodge Recovery Services Centre in the Blue Mountains closed its doors at the end of July after a decade helping those with chronic drug and alcohol problems find freedom.
Around 80 people, including many former participants and graduates, gathered for a celebratory chapel service on July 22 to mark the closing of the recovery services centre.
Territorial Mission and Resource Clinical Director – Recovery Gerard Byrne says funding was no longer available for the lodge due to changing government priorities and acknowledged the tremendous dedication of its staff over the last decade.
 "The Department of Community Services funding which supported the mission of Hadleigh Lodge is no longer available for alcohol and other drugs treatment. This brought about the very difficult decision that Hadleigh Lodge would close," Mr Byrne says.
"During the last decade Hadleigh Lodge has been a vital part of the Recovery Services network and of the alcohol and other drugs service sector, not only in the Blue Mountains and Nepean area, but right across the state. The life of Hadleigh has seen many peoples lives transformed." 
 "We thank God for the provision of this tremendous place and give thanks and acknowledge the missional intent, dedication, commitment and hard work of the officers and staff who worked at Hadleigh Lodge during its time as a recovery services centre.
 "Many dedicated staff served at Hadleigh Lodge and we want to acknowledge their commitment to the people who came to Hadleigh Lodge seeking a transformed life.
Hadleigh Lodge opened in Leura in 2004 , taking over from the St Peters bridge program – one of the last 'prison gate ministries' in New South Wales. 
The St Peters service initially provided a place for men, who were alcohol dependent, homeless, and exiting prison to live, to learn work skills and re-establish themselves in the community. The service developed into the bridge program and in 2003, when the property was sold, The Salvation Army purchased the Leura property to relocate the program.
Majors David and Catherine Rogerson, now corps officers at Tamworth, with a number of staff from St Peters, established the 22-bed residential alcohol and other drugs rehabilitation service in the Blue Mountains. Subsequent managers included Majors Scott and Jacqui Warrington (now managers at Canberra Recovery Services) and most recent managers captains Paul and Kaylene Morrice.
Speaking of the final chapel service Captain Paul Morrice says, "Many shared about what Hadleigh has meant to them – about being part of a family, about the love shown here and the fact that it has helped so many get their lives back on track. 
"We have seen so many lives changed and it has been a blessing in the three-and-a-half years we've been here."