Bridge Program standing strong, 50 years on
28 August 2014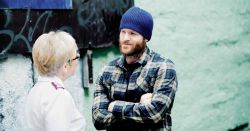 The Salvation Army's Australia Eastern Territorial Bridge Program is celebrating its 50th anniversary this year.
The program helps people who suffer from addiction, ranging from drugs and alcohol to gambling, and operates in eight locations across the territory, along with a number of similar corps-based programs.
The Salvation Army is the largest provider of residential recovery services in both NSW and Queensland.
Since its inception in 1964, more than 100,000 people have come through the Bridge Program.
"People [have] moved from desperation to restoration. We've seen many of our people employed in very high levels in society. We've seen a lot of great things happen. That's something we should thank God about," said Major David Pullen, Territorial Mission and Resource Director – Recovery.
The Bridge Program is continually expanding its operation.
A 19-bed residential facility, aimed at reaching the Aboriginal and Torres Strait Islander community, has recently opened in Normanton, north-west Queensland.
In June, the Rotary Life Skills Centre opened at William Booth House in Sydney, and a women's wing will soon open in the Brisbane Recovery Services Centre (Moonyah).
"In more ways, we continue to develop the Bridge Program in its 50th year, and we continue to develop in the glaring need of society," said Major Pullen.
The Bridge Program's first premises was in Nithsdale Street, Sydney, behind the current territorial headquarters building in Elizabeth St.
The program is a holistic service that focuses on spiritual, mental, emotional and physical recovery. For David, success isn't always measured in numbers. Rather, success is seeing lives changed for the better, he says.
"It's a program that works. Everyone's a success. Any day in recovery is a good day," he said.
The Bridge Program is highly regarded in the Australian community, its success reflected in the many awards it has received. The latest one was at the National Drug and Alcohol Awards in 2013 where won the Excellence in Treatment and Support category.
For more information about the Bridge Program, visit salvos.org.au/recovery