Freedom Partnership demands action
28 October 2014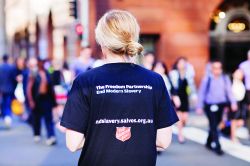 ---
The Salvation Army's Freedom Partnership has joined with Walk Free, a global movement focused on ending modern slavery, to launch a national campaign asking the Federal Government to improve domestic workers' rights and protections.
The campaign aims to increase pressure on the Government to sign International Labour Organisation Convention 189 (ILO C189).
During the launch this month, the Freedom Partnership team erected a "pledge wall" in Sydney's Martin Place. Members of the public were encouraged to take the "Freedom Pledge" by adding their name to the wall.

There are about 54,000 domestic workers in Australia, many of who have travelled here from other countries to take up their job. More than 90 per cent of these workers are women, and have compared their lives to being "in jail, like a prisoner, like a slave, like a servant".
"There's a name for this sort of treatment - modern slavery," said Jenny Stanger, National Manager of The Salvation Army's Freedom Partnership.
"We view ratification of ILO C189 as a necessary tool Australia can use to combat modern slavery. The UN Special Rapporteur and others have called for ratification in the past. It's time for Australia to be a leader on this issue in our region."
You can take the pledge at endslavery.salvos.org.au and join the campaign at campaigns.walkfree.org/p/domesticworkerdignity