Bridge Program facing new challenge as it turns 50
25 November 2014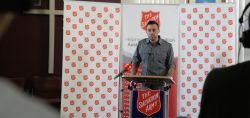 ---
To mark the milestone of 50 years of the Bridge Program, The Salvation Army has released research into the trends and changes that are being faced in its recovery service centres.
Research shows a significant increase in the number of people coming to The Salvation Army with problems associated with the drug "ice".
People on ice often display unpredictable and challenging behaviour and studies have shown the prolonged use of ice usually leads to significant brain and mental health conditions.
More than 70 per cent of clients presenting to the Bridge Program have mental health-related issues as opposed to 33 per cent 30 years ago.
At the Bridge Program 50 years media launch on 24 November at William Booth House, Territorial Mission and Resource Clinical Director for Recovery, Gerard Byrne, spoke about the challenges facing The Salvation Army's recovery services centres, particularly in relation to ice.
"What we're experiencing today with ice is new, it's unique and it's different and the situation is getting worse," says Gerard.
Sadly, the research also found that the average age of people entering the program for drug, alcohol and gambling addictions is getting younger. Also, in recent years, the number of people using amphetamine-type substances (including ice) has clearly increased.
Michael Peattie, 28, who graduated from Miracle Haven (now know as Dooralong Transformation Centre) in 2008, says his life was transformed after going through the Bridge Program.
"If it wasn't for The Salvation Army I would be dead. For that I am forever grateful for their work and love," says Michael.
"To go from homeless and drinking methylated spirits to today where I've bought my own home and am working in an industry where I get to help others turn their lives around is a huge gift and I owe that to the Salvos."
There have been a number of events held at recovery service centres across the territory over the past few weeks to celebrate the lives that have been transformed through the Bridge Program over the past 50 years.
To read more stories of transformation as a result of the Bridge Program and see a timeline of the past 50 years, see this month's copy of Pipeline magazine