Self Denial Appeal offers hope to communities
17 February 2015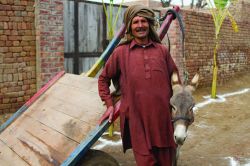 ---
The six-week Self Denial Appeal video series begins this Sunday, featuring the stories of four people who share how their communities have been dramatically changed because of Salvation Army projects.
Click here to access the Self Denial videos.
"Hope Through Community" is the theme for this year's appeal, continuing on from last year's series – "Planting Seeds of Hope".
"We got lots of positive feedback on last year's theme," said Leigh Cleave, Australia Eastern Territorial Fundraising Director. "We believe hope is very much what The Salvation Army is about."
The appeal begins on Sunday 22 February and culminates on Altar Service Sunday (29 March) with an opportunity to support the Army's work in countries that struggle to raise their owns funds. Salvationists are encouraged to give a week of their salary to the appeal or even set up a regular ongoing giving plan and donate via direct debit.
"We give knowing we mightn't know all that happens ... but we can feel confident that it is building the kingdom," said Leigh.
The video series will be shown in corps in the Australia Eastern, Australia Southern, and New Zealand, Fiji and Tonga territories.
To the accompaniment of Together as One, written by Chris Smartt, week one introduces how the Army has been impacting communities across the world.
Week two follows the story of Christine and her family who were forced to flee their home in Rwanda, Africa to escape a wave of genocide in the country. When they finally returned, they had nowhere to live. The Salvation Army came to their rescue, building them a house and 16 other homes for others in their village.
In week three, Chhun Lim, after receiving a university scholarship, shares how he left his village in Cambodia with only $5 and moved to the capital, Phnom Pehn, to study. After living in a small room with four other people, sleeping on the floor, The Salvation Army provided him with a place to stay at its community hostel.
In a rural village in Pakistan, Maqbool struggled to feed his wife, six children and parents until The Salvation Army came to his aid and provided him with a donkey. In week four, Maqbool shares how he can now make a living for his family.
Losing her husband to AIDs, both Freda and her daughter, who both suffered from the HIV virus, were neglected by their family. In week five, Freda and her daughter found the medication they needed, and a new family, at the House of Hope in Papua New Guinea.
The last week of the series features a video clip of Chris Smartt performing Together as One with a montage of video sequences from the previous five weeks.
To set up a regular giving plan, contact Sandra Schiller on 02 9266 9842 or go to www.selfdenial.info to donate online.