Sikh community reaches out to drought-affected farmers
3 March 2015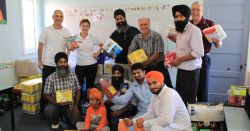 ---
It was a segment on the Alan Jones program on Sydney's 2GB radio station that first alerted Amar Singh to the desperate plight of Australian farmers experiencing drought.
Amar, who runs a small family transport business in Sydney, spoke to members of his Sikh temple in Revesby, and another in Glenwood, who were keen to help.
He also posted on social media and was interviewed on 2GB, which attracted more support, including a $500 donation from the Riverwood Lions Club.
Then, just before Christmas, Amar, together with a group of Sikh community volunteers, transported a van, a four-wheel drive and a large trailer of full of non-perishable groceries to The Salvation Army in Dubbo.
Dubbo Salvation Army Corps Officer Lieutenant Mark Townsend says of the gift of around $3000 worth of groceries, which is still being distributed by Salvation Army rural chaplains to those in need: "It was amazing – not just all the groceries, although they were amazing – but also the energy, excitement, compassion and commitment of the guys to making a difference in the lives of the farmers."
Amar explains that the Sikh community is traditionally an agricultural community and many could relate to the needs of struggling Australian farmers.
He says: "Sikhs have been farmers for generations, so we are very close to the land.
"We have the same sorts of problems in India as well, with farmers committing suicide and lack of income in farming. I did some research and watched the documentary 'Battling the Dry' by Al Jazeera (a documentary about the human cost of drought in Australia's north)," Amar says.
"I thought 'this is a first world country, it shouldn't be happening here'. We can't do everything to change the situation, but I knew we could do something to lend a hand and let farmers know that ethnic communities in Australia are thinking about them."
Salvation Army rural chaplain Envoy Lloyd Graham says: "When we turn up to a farm now, we grab a big box of groceries and walk up to the door and say 'the Sikh community in Sydney have sent this out and wanted to bless the outback'.
"A lot of the people out here have a basic Christian faith, and to think that another faith group would go to the trouble of organising that has really surprised and touched them."
Dubbo-based Salvation Army rural chaplain Captain Sharilyn Bush has also been distributing the groceries and says: "The donations were incredibly well thought out, with nappies for young families and even food for farmers' dogs included."
As much as the material support is important, Sharilyn says: "One of the most important things does is remind them that they are not alone – that they are not forgotten and it gives them a glimmer of hope that other people are thinking about them and caring for them."
Amar says a number of people in his community have already approached him about offering further help, and says that for him and the group of volunteers who transported the food, the
experience of connecting with members of The Salvation Army was also meaningful.
"It was such a humbling experience when Lieutenant Mark Townsend shouted us a very hearty Indian vegetarian lunch, and Major Maree Strong said grace," Amar says. "As human beings we should count our similarities rather than differences."