Direct from the TC: A Tribute to General Eva Burrows
21 March 2015

Friends,
The Army world is saddened today to lose such a good friend and noble leader as General Eva Burrows. Yet we are also glad that our Saviour has welcomed her home. Truly General Burrows was a great Australian who could have made her mark in any pursuit, but instead poured out her life in the service of Christ and The Salvation Army.
Eva Burrows was born in Newcastle, NSW, on 15th September 1929 to officer parents, Robert and Ella Burrows. Moving to Queensland, young Eva soldiered at Fortitude Valley Corps in Brisbane before entering the Training College and being commissioned as a Salvation Army Officer in 1951. Her officership included a number of years serving in Africa, interrupted only by a period of university study in Australia. She later served in other nations before being elected in 1986 as the 13th General of The Salvation Army.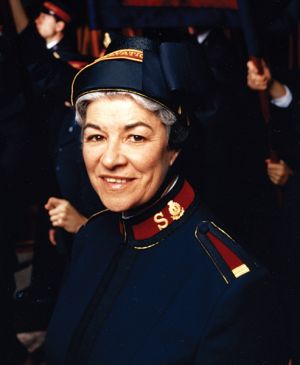 Eva Burrows immediately proved to be a vibrant, charismatic, and inspirational leader. She had remarkable gifts of communication, of making people feel loved, of leading our world-wide Army. When the Iron Curtain fell, she swiftly deployed Salvation Army pioneers to serve the people of Eastern Europe. So effective was she, that the Army's leaders voted to extend her term as General.
In retirement 'Geneva' as she was affectionately called, continued to be an inspiration, as a mentor to younger leaders, and serving 'our people' at her corps in the heart of Melbourne.
I count it an honour to have been personally influenced by General Eva Burrows as we have kept in touch over the years. She has been to me a wise counsel and great support - often affirming and encouraging my leadership. I feel privileged to have known a Christian woman of the stature of General Eva Burrows. I am sure many around the world feel the same way. We Australians are proud of her.
General Eva Burrow fought the good fight and has been welcomed home. We also remember her family at this time of loss and ask that God's peace and comfort will be their experience moment by moment in the days that lay ahead.
James Condon
Commissioner, Australia Eastern Territory