Love warms Snowy hearts
17 July 2015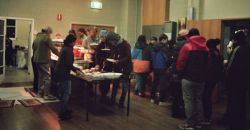 ---
Cooma Corps Officer Captain Louise Nicholson reflects on the Salvo Snow Mission which took place in Jindabyne from 29 June to 12 July.
Over the past two weeks of the NSW school holidays, Salvationists have poured out love on hundreds of seasonal snow workers and locals at the fourth annual Snow Mission in Jindabyne.
The theme for this year's Snow Mission was "Servant Heart". People were surprised by the kindness shown to them by the Salvos. We shared our faith stories, preached the gospel by our actions, offered prayer and taught people how to sing Jesus Loves Me. People asked if it was our company song. Seeds were planted.
Over the 13 days of mission at Jindabyne Memorial Hall people from 20 countries were served. Twenty-one people wanted to know more about Jesus, 45 requested prayer and 12 wanted information about The Salvation Army. Many more were thankful for the friendliness of the team members and an atmosphere that created a home away from home. Others were thankful for the food. Open between 2pm and 10pm, 2100 hot drinks and 1515 three-course meals were served to people who struggle to make ends meet due to a lack of work – particularly at the start of the season.
People were concerned that the snow was late, the worst season in 33 years. Many workers have shared that they've been here a month and that they are not getting enough work to cover their costs. Some of the workers said that they were only getting two four-hour shifts a week which barely covered their rent, and needed thirty hours per week. They're waiting for the snow so that they can get some money to live on and have a little left over.
Salvos Snow Mission offers people a warm, safe place where friendships and safe networks are being built at the beginning of the season. It also provides a comfortable setting to have a cup of tea, coffee or hot chocolate, play games, do puzzles, have a chat with team members and enjoy an evening meal. A prayer room was also provided. This year a number of people from Taiwan asked the team to pray for 500 people who had been burned in a fireball at Taipei. Major Melba Crisostomo, Major Linda Willing and I led all of the people, in the main hall, in prayer. All bowed in response.
Local awareness and support of Salvos Snow Mission has occurred this year in Jindabyne. St John's multi-denominational church partnered with The Salvation Army, in promoting our mission amongst their congregation, with the Country Women's Association and with members of their community.
Jindabyne families visited this year. One lady joined us for worship and a group of local Christian musicians led a musical evening, with one of our team and many of the snow workers joining in. Important groundwork has been laid in Jindabyne and in the ski fields. For the first year we've had managers at Perisher ski resort distribute our flyers and tell their staff on the mountain that we're here.
Many workers have two-year visas and this year came back to the Snow Mission after having a good experience there last year. Others from within Australia and from oversees said that friends told them to visit Salvos Snow Mission this year. The word is out that The Salvation Army will look after people, in a safe alcohol-free place, in Jindabyne.
We have provided an alternative venue to the strong pub culture in Jindabyne. People come in saying "we don't drink and we want to make friends and you are friendly people that we can trust." 
I can see God planting seeds of hope in the people who attend. I can see people come in not knowing what Christianity is all about and they go away with a bible under their arm asking, "Where can we find The Salvation Army in our country?"
They go away knowing that Jesus loves them – that we are here serving them because we love Jesus and Jesus loves them.