Walkathon sheds light on modern-day slavery
15 September 2015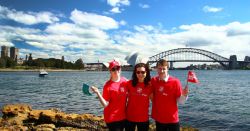 ---
The sun came out just in time for The Salvation Army Aged Care Plus annual fundraising and awareness walkathon on 10 September in Sydney.
Salvationists, officers, employees and community members completed a 5km walk through the streets of Sydney to raise funds for The Freedom Partnership, The Salvation Army's national initiative to end modern-day slavery.
"Aged Care Plus is dedicated to transforming lives and making a positive difference whether that's locally or globally. And as part of our commitment to freedom, every year, Aged Care Plus holds this walkathon to raise awareness and vital funds for worthwhile causes," said Aged Care Plus CEO, Sharon Callister. "Today I'm going to challenge the rest of us to give generously, to walk proudly and to stand up for the fight against modern-day slavery."
The Sydney walkathon is just one of nine walkathons held across the Australia Eastern Territory to raise awareness and funds for The Freedom Partnership. So far, more than $60,000 has been raised. Walkathon sponsors Grindley and Catering Industries have each pledged $10,000 to the fundraiser. More funds are expected to be raised in the coming weeks.
At the walkathon, national manager of The Freedom Partnership, Jenny Stanger, shared about the importance of creating awareness and taking action against the issue of human trafficking and slavery – an issue that is relatively hidden within Australian society.
"Thank you so much because this is an issue again that's hard to make visible. It's hard for people to understand how an issue like slavery can happen in this country. The reality is, slavery does happen here," said Jenny. "The money raised here will fill critical gaps faced by victims across Australia from the moment they get out of that situation, right through to point where I've been able to see a very powerful thing, where people are reunited with their children and their loved ones."
City of Sydney Councillor, Angela Vithoulkas has joined with The Freedom Partnership and Aged Care Plus to raise awareness about the issue of human trafficking and slavery within with local government groups. At the walkathon, Angela said she was shocked to hear the extent of the issue of human trafficking and slavery within Australia.
"My heart broke when Jenny [Stanger] talked to me about this. I was reinvigorated to know that I was part of something that's going to change the world," she said. "While you are walking around today remember how blessed you are and remember why you are walking for those who don't have a voice or can't be heard."
For further information about The Freedom Partnership, go to endslavery.salvos.org.au
If you would like to donate to the Aged Care Plus walkathon, go to agedcareplus.salvos.org.au