Focusing on photography in soldiers' recovery
24 September 2015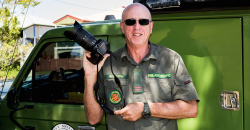 ---
Earlier this year, Brisbane's representatives for the Salvation Army Red Shield Defence Services, Captains Jeff and Terri Goodwin, began a new initiative in the Army barracks – a photography course.
This course is run for Australian soldiers who are at the Soldier Recovery Centre after suffering some kind of injury or personal stress that stops them from functioning normally.
"The photography course was put in place because Terri and I wanted to get to know the soldiers better on the base," says Captain Jeff. "We go out and serve them drinks and speak to the soldiers with our mobile chapel, but we thought that we would add another dimension by running the photography course. It's enabled us to go to the Soldier Recovery Centre for the first time and connect with the soldiers in recovery.
After the soldiers leave the Soldier Recovery Centre, some go back to active duty with their unit and some transition back into community life. Along with the other services the Australian Army provides, the photography course offers the soldiers something enjoyable to focus on.
"As well as being a Salvation Army officer, I also do wedding photography. I have always found it a great way to meet people. I love sharing with others the beauty and majesty of God's creation through landscape photography. I try to convey the beauty of creation with the soldiers and encourage them to get out and look for these photo opportunities themselves," Captain Jeff says.
With about 16 soldiers in a class, anyone who's in recovery and interested in photography can join the course and many walk away with a new passion for photography.
"As well as the photography course at the Soldier Recovery Centre, we also hold a class explaining about The Salvation Army and its history. Particularly the history of The Sallyman helping and serving in all theatres of war, beginning with the Boer War and including all other wars such as World War Two, Korea, Vietnam and East Timor etc," he says.
We inform the soldiers about all the Salvation Army services we offer for those transitioning back into civilian life. Some of the soldiers come in with huge problems. My hope is we can connect with the soldiers, and that the photography course helps the soldiers by giving them something else to focus on."