Cadets commissioned and sent out to serve
2 December 2015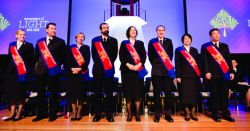 ---
Eight new Salvation Army officers were ordained and commissioned by the Australia Eastern Territory in Sydney on Sunday morning, 29 November.
Territorial Commander, Commissioner James Condon, conducted the ceremony, held at the University of Western Sydney.
Each of the cadets – Jess and Paul Farthing, Bronwyn and Perry Lithgow, Jodie and Matthew Sutcliffe, and Frank Wang and Belinda Zhou – entered the darkened auditorium carrying a lantern, symbolic of their sessional name, the Messengers of Light. Commissioner Condon drew upon this theme in his message to the newly commissioned officers.
"If ever the message of light is needed, it is today," he said. "Did you ever think you would live to see what is happening in the world today? War, terrorism, death, destruction and fear. Many in the world are living in darkness; they need their eyes opened.
"Jesus says in John 8:12, 'I am the light of the world. He who follows me will not walk in the darkness but will have the light of life.' We, as The Salvation Army, and you, as the Messengers of Light, have this wonderful opportunity to shine the light for all to see.
"But, we must understand that Jesus is the true light. We are only reflectors of that light. Messengers of Light, that is part of your calling, to expose darkness and to serve as a guide; a light along the way."
The commissioner, quoting Philippians 2:14-16 in which the apostle Paul talks about shining like stars in a crooked and depraved world, then threw down a direct challenge to the new officers.
"Is that what you are doing, Messengers of Light? Are you shining like stars in the universe as you hold out the words of life? Messengers of Light, the salvation of others could well depend on you."
In bringing his message to a close, Commissioner Condon reminded the new officers and the congregation of the concluding words of Salvation Army founder William Booth's famous "I'll Fight" speech:
"While there remains one dark soul without the light of God, I'll fight - I'll fight to the very end!"
In the afternoon "Sending Out" service the new lieutenants were officially given their first appointments as officers. Lieutenants Jess and Paul Farthing were appointed as corps officers at Shellharbour; Lieutenants Bronwyn and Perry (corps officers at Townsville Faithworks); Lieutenants Jodie and Matthew Sutcliffe (corps officers at Shoalhaven); and Lieutenants Frank Wang and Belinda Zhou (corps officers at Bankstown). Lieut Jess Farthing spoke on behalf of the new officers before Chief Secretary Colonel Mark Campbell, again picking up on the sessional name, reminded all present that "our light attracts others to the greater light that is Jesus".