Faiths unite to end modern day slavery
3 December 2015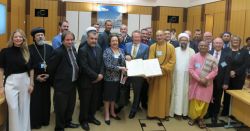 Faith leaders gathered at Parliament House yesterday for the launch of the Australian Freedom Network.  
---
Commissioners James Condon and Floyd Tidd, Territorial Commanders of the Australia Eastern and Southern territories respectively, joined with Hindu, Islamic, Muslim, Buddhist, Jewish and various Christian leaders at Parliament House in Canberra yesterday to launch the Australian Freedom Network. 
"This network will bring together the faith communities of Australia to make a public commitment to develop practical actions to eradicate modern slavery in our nation," said Commissioner Condon.
Yesterday, 2 December, marked the International Day for the Abolition of Slavery. The senior religious leaders also signed the "Joint Declaration of Religious Leaders Against Modern Slavery", the same Joint Declaration of Global Religious Leaders Against Modern Slavery signed last year in Vatican City at the launch of the Global Freedom Network.
The Global Slavery Index estimates 35.8 million people are enslaved globally, with 3000 people estimated to be enslaved in Australia. In 2015, shocking abuses of people in Australian agriculture, food production and retail franchises have been exposed on an unprecedented scale.
"The cases that we know about represent only the tip of an iceberg," said Commissioner Condon. "We must do more to close the gap between the victims we know about and the thousands still enslaved in Australia. Faith communities can play a critical role in this and be part of a global movement that prevents slavery in the first place. All of the world's major faiths share universal values of dignity, freedom and social justice."
The Global Freedom Network is founded on the premise that religion can be a powerful motivating force to inspire individual and community action both spiritually and practically. By signing the Joint Declaration, Australian faith leaders have made a commitment to measurable actions towards ending slavery in Australia for at least the next five years. Australians can join them in their efforts at afn.org.au
To read Commissioner Condon's blog on fighting slavery, go to endslavery.salvos.org.au/blog/