Doorway to a new life
11 January 2016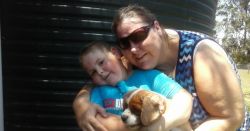 (Photo courtesy of Carolyn)
---
It was a tough time in her life that drove Carolyn, who had previously always supported others, to reluctantly seek support from The Salvation Army Doorways service. That contact, however, soon became a doorway to a deep and healing relationship with God. It also opened the door for Carolyn to renew links with Salvation Army corps life and begin volunteering to help others in need
Carolyn's mother used to say that The Salvation Army was her daughter's "second home". As a child, Carolyn attended the Chester Hill Corps in Sydney's inner west, and became heavily involved.
"I started my journey from a little Moonbeam, to Sunbeam, Guard, Junior Solider and, of course, Sunday school. I just loved being there," Carolyn recalls.
When the corps closed down, merging with another local corps, Carolyn felt a loss of connection and eventually stopped attending. She admits she slowly drifted away from her childhood faith, and by the time she started university, Carolyn says she began to smoke, drink and party.
She met her (now ex) partner and they were engaged and together for seven years. During this time she became concerned with her partner's increasing drug use. She also increasingly became the main support of the relationship, working hard in her job in disability and aged care services. Carolyn says the relationship became increasingly volatile, and "one day when he came at me with a knife, I knew that was the end."
But other challenges soon came along. A surprise pregnancy and birth almost claimed her life. And her "miracle boy" Brayden has gone on to face a range of challenges including Attention Deficit Hyperactivity Disorder (ADHD), Oppositional Defiant Disorder (ODD) and mild Global Development Delay (GDD).
As a single mother of a young son with special needs, and also caring for her own mother for a time, Carolyn was forced to give up work. She did, however, complete a range of studies, including a Certificate IV in Community Service and a Certificate IV in Drug and Alcohol counselling.
Although she is fiercely independent and meticulously budgets, Carolyn realised at one stage that she really needed help. She reluctantly put her name down with The Salvation Army Doorways service for a Christmas hamper. Carolyn says that at the time: "I was full of shame and self-loathing and embarrassed to ask for help. My life wasn't as good as I pretended it to be."
Her Doorways contact was Casandra, who suggested Carolyn visit Ballina Corps (even though she hadn't been near a church for more than a decade). The care and friendship she found when she walked through those doors led to an encounter with God.
Carolyn says: "It (the encounter) was the most beautiful day in my life. We were up at Brisbane corps on a women's retreat worship day of prayer, with a group of lovely ladies from our corps. As the service started, I knew something was different inside me. I was compelled to get up and walk out the front to give my life finally to God after all these years. A huge weight had been lifted. I met my (heavenly) Father that day and knew I was loved in a way I'd never felt before."
Despite many challenges along the way, corps life has again become an integral part of Carolyn's life. She volunteers to man the phones for welfare in the lead-up to Christmas, helps with the Mainly Music program and plans to become a soldier. Brayden is a Junior Soldier.
Carolyn says: "I enjoy being a part of my church family and hope to continue working in the ministries and serving God. It (now) really fills my heart with joy to share my love for Jesus with others! I just want everyone to know him and his love like I do."