Hanging on by her hands
21 January 2016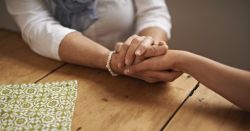 With a quick laugh, and warm heart, Mary* is in so many ways a "battler". 
Mary was already caring fulltime for a very sick friend when she was called on to take full time custody of her two young grandsons, both of whom struggle with a range of health and emotional issues.
With no Centrelink support at the time for the boys (aged 15 months and 3 ½ years) and only a tiny amount from her pension left after bills, Mary, who had worked as a medical receptionist before taking on care of her friend, says she was struggling to even buy formula and nappies. On top of that she was desperately trying to pay private health insurance premiums so that one grandson could have access to necessary treatments.
Having also lost her mum not long ago, Mary says of taking on the boys: "I get exhausted. I constantly feel sick.
"The three year old wakes up screaming every night -- he doesn't toilet train, he gets very, very angry very quickly. He is frightened of everything. Getting him to eat is almost impossible, plus his hearing tests have come back looking bad."
Mary who says "she would stand in front of a bullet" rather than let the boys go to strangers in foster care, says she had just about given up hope that she could keep them. With nothing left to feed them or clothe them with, Mary turned to The Salvation Army.
She says: "Basically I walked in and fell apart".
With all her heart, Mary wants to save her grandchildren from any more pain and trauma. She say she recently got a call from The Salvation Army service inviting her to come in more regularly for help, as the team want to work with her to help stabilise the family.
"Without that help," Mary says, "I would have lost the boys.
"The support of the Salvos and donors has absolutely carried me through," she says."I'm no longer hanging on by my fingernails -- at least I'm hanging on by my hands now. I'm stronger than I was."
It is not just material support Mary says she treasures.
"I know I can always talk to the beautiful Salvos ladies," she says. "There has been so much care – oh, it's been amazing, and the friendships I feel I've formed there will carry me a very long way."
*Name changed