You are here:
Home › News › 2016 › 03 › 01 › The Salvation Army Announces Unification Of The Australia Eastern And Australia Southern Territories
The Salvation Army announces unification of the Australia Eastern & Australia Southern Territories
1 March 2016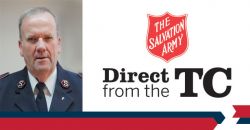 Dear Salvationists, colleagues and friends,

Today marks a significant day in the history of The Salvation Army as we announce the unification of the Australia Southern and Australia Eastern territories.

This decision can best be summarised by our shared conviction that we are better together. We eagerly desire the eradication of poverty, homelessness, domestic violence, addiction, loneliness, and every other form of needless suffering. Such a pursuit requires an Army that is strong, focused and united.

The combining of our two territories will strengthen the delivery of our mission, allowing us to build upon the best of each territory.

Our goal is nothing less than the realisation of abundant life for every Australian.

We acknowledge that this announcement will bring about many questions. Answers to these questions will be developed over time, and we give you our commitment that this process will be open and consultative throughout.

We will listen to God, and we will listen to you, in order to make the best decisions for the success of our mission now and into the future.

We encourage you today with the words of the Apostle Paul, who wrote to the church in Ephesus saying:

Be completely humble and gentle; be patient, bearing with one another in love. Make every effort to keep the unity of the Spirit through the bond of peace. There is one body and one Spirit, just as you were called to one hope when you were called; one Lord, one faith, one baptism; one God and Father of all, who is over all and through all and in all.
(Ephesians 4:2-6 NIV)
Let us be a united Army known for our courage, for our generosity, for our optimism and our determination. More than anything, let us be an Army known for our love – of God, of one another, and of people everywhere.

May God bless each of you, and may God bless The Salvation Army, for His glory. 

James Condon (Commissioner)     Floyd Tidd (Commissioner)
Territorial Commander                   Territorial Commander
Australia Eastern Territory              Australia Southern Territory
For more information, visit mysalvos.org.au/AustraliaOne