40 Days on Covenant - Bible Reading Plan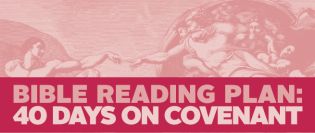 (2 images)
40 Days on Covenant is the latest in the "40 Days" Devotional Series. In the Ancient Near East covenants were a way people solidified relationships and responsibilities. When God met with people and formed covenants with them, he was using a form of agreement which they were very familiar with. There were various kinds of covenant, usually with attached benefits and penalties; much like the blessings and curses that appear in the Mosaic Covenant.
One of the key threads that run through the bible are the various covenants that God made with various people, including Adam and Eve, Noah, Abraham, David, and the New Covenant in Jesus Christ. The bible shows God both making and keeping covenant with people that he chose. This bible reading plan focuses on the Abrahamic, Mosaic, Davidic and the New Covenants and shows how the earlier covenants are all fulfilled in Jesus Christ, and in the New Covenant. Each day in the plan includes a biblical reference to read, and some contemplation questions to ponder.
40 Days on Covenant A5 Sheets - Use the booklet printing settings on your printer. Fold and staple.
40 Days on Covenant A5 Spread - Print double-sided, fold and staple.
Category: Discipleship
This resource is included in the following collection(s):