40 Days on Grace - Bible Reading Plan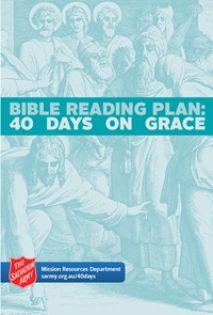 God is an amazing God. He eclipses our human understanding. We usually do not have any trouble believing that God is angry about sin. Which is definitely true. But we need to hold that truth in tension with other truths about God. One of those other great truths is that God is also a God of mercy and grace. God's mercy means that He does not give us what our sins deserve; His grace means that He gives us blessings that we do not deserve. Mercy brings our spiritual 'bank balance' back to zero, Grace makes us spiritual millionaires. Let's spend forty days together, learning to understand better what it means to live life under the Grace of God. The journey will take us through the Old and New Testaments to build up a biblical picture of the doctrine of grace.
40 Days On Grace A5 Sheets - Use the booklet printing settings on your printer. Fold and staple.
40 Days On Grace A5 Spread - Print double-sided, fold and staple.
Category: Discipleship
This resource is included in the following collection(s):