40 Days With Jesus - Bible Reading Plan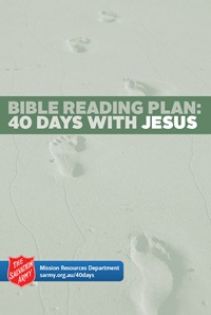 40 Days with Jesus is a Bible Reading Plan designed to lead you through the Bible on a journey to better understand Jesus. Each day in the plan includes a biblical reference to read, and some contemplation questions to ponder.
The plan builds up a broadly biblical picture of Christ starting with the Old Testament anticipation of Christ. Jesus' ministry is traced through its beginnings, his heralding of the Kingdom of God, his demands of disciples, his teaching in the Sermon on the Mount, his inclusion of outsiders, culminating in his death and resurrection.
40 Days With Jesus A5 Sheets - Use the booklet printing settings on your printer. Fold and staple.
40 Days With Jesus A5 Spread - Print double-sided, fold and staple.
Category: Discipleship
This resource is included in the following collection(s):